Large And Small Backyard Koi Pond Ideas From Real Projects In Maryland
Collect Some Ideas For Your Own Backyard Pond Project In Maryland, DC, Or Northern Virginia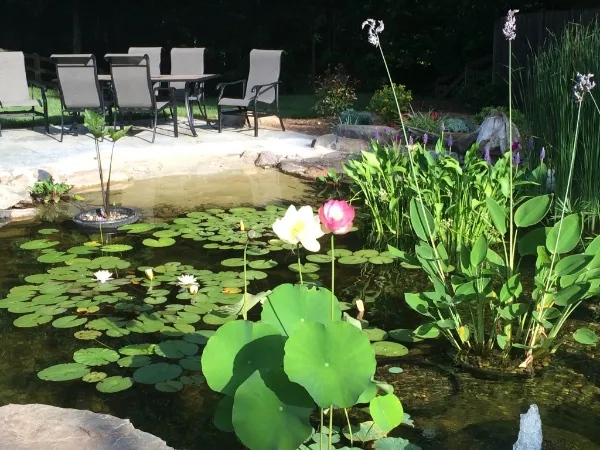 These koi pond ideas come from actual projects clients have had us do for them in Maryland, DC, and Northern Virginia.
See pictures and videos of some projects below-
"I mean, what do we really know about koi pond design?" asks Matt.
Christina shrugs and bites her lip. "Not much. That does make it harder to think of koi pond ideas for our backyard. I think we should look up some ideas and pictures. Maybe we'll be able to find a few that we like."
Matt nods and gets out his phone. "Let's tackle it together. We'll find ideas more quickly this way." He starts searching on Google as Christina does the same.
"Wait a minute," says Christina as her fingers pause. "Should we look up koi ponds done by pond contractors near us? We might be able to find ideas and a contractor who can do our project at the same time."
Matt looks up, eyebrows rising. "That's a great idea. How about you do that and I'll tackle Pinterest and stuff like that for other backyard pond ideas." Christina nods and they get back to looking.
After searching for a while, Christina finds ideas for koi ponds on a contractor's website. Here are the pictures and videos she and Matt see:
Water Feature Ideas That Fit Into Smaller Backyards
Glenn (pond owner) had us come in to renovate this pond right before he was to host a wedding reception at his home. This backyard pond idea may be a little smaller than our average size, but what it lacks in size it more than makes up for in the happiness it brings Glenn.
You can hear his thoughts on the process and product in the video above.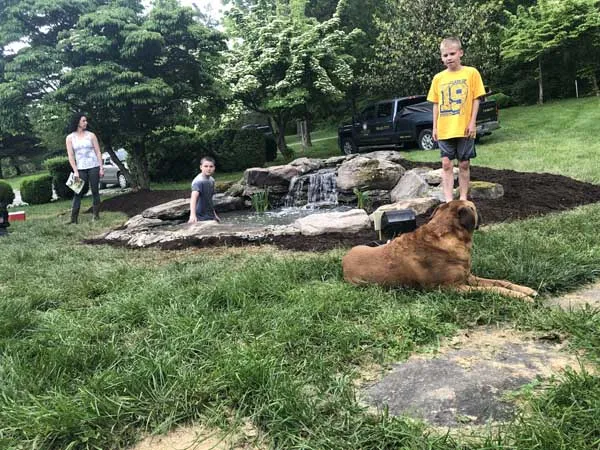 While it's large enough for the kids to wade around in, this backyard koi pond is still on the smaller side. It works perfectly well for this family, as you can see by reading
the project profile
.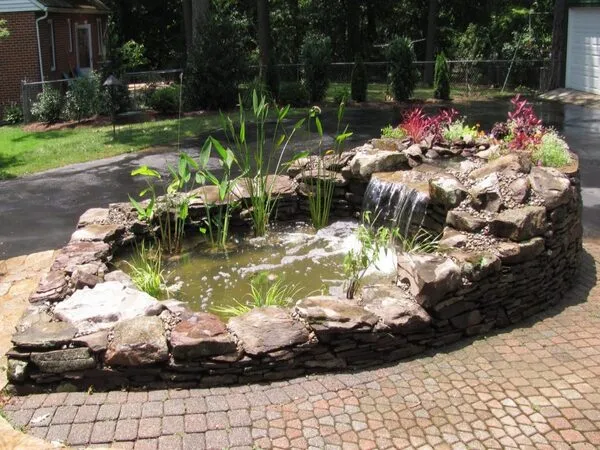 This smaller pond is also aboveground! You can use retaining walls to create this kind of backyard pond idea. It's a much rarer sight than your average koi pond.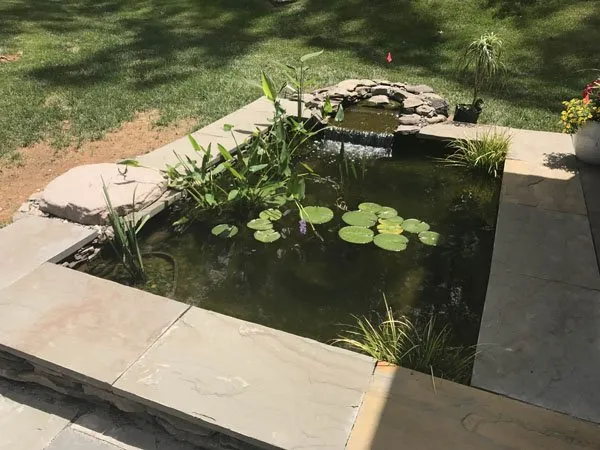 You can also choose to install a formal koi pond. Formal koi ponds, like the one above, don't look as natural as our other ecosystem ponds. They do work just as well and still have the same
benefits of a backyard pond
.
Average Size Koi Pond Ideas For Backyards
Steve and his family liked their backyard water feature well enough (not installed by us). What they didn't know was that their water feature could be so much more. While experiencing a problem with their water feature, Steve reached out to us to fix it. He talked to our Steve (founder and co-owner) who asked him whether he wanted to fix it or do something great with it.
Steve decided he wanted to upgrade with a new backyard pond idea. Watch the video above to see the end result, which is one of the most beautiful backyard pond ideas we've done.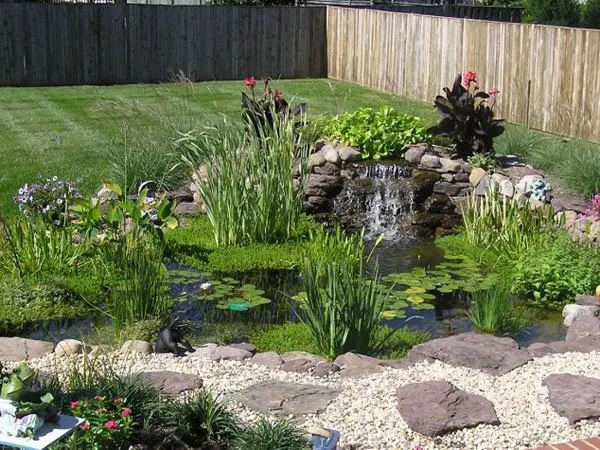 This is a perfect example of the average backyard koi pond. It's
the average pond size
, has one waterfall, plants, rocks, and everything else a koi pond needs.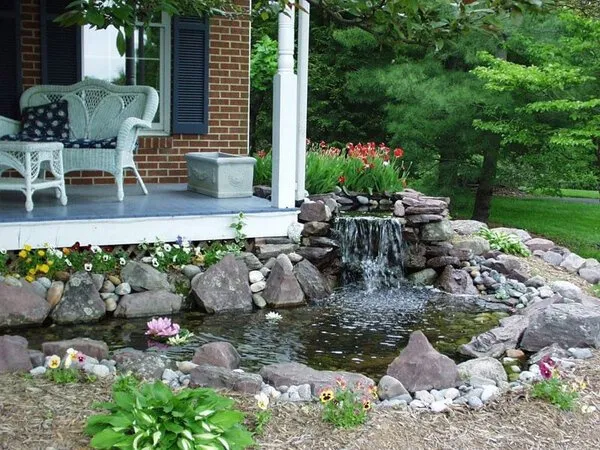 Ponds are a great addition near decks and patios. You can get a great bird's eye view of the pond from the deck and a ground-level view from the other side.
This backyard pond is being built with fish caves and tunnels. They not only give your fish more room to swim around in but they also give them a place to hide from predators like herons.
Larger Size Backyard Koi Pond Ideas
This is one of the backyard pond ideas that are almost two-for-one. The first waterfall splashes into a smaller pond that leads to a small waterfall flowing into a bigger pond. The aquatic plants add splashes of green amid the gray stone edge and crystal clear water.
Here's the pond during the day and at night: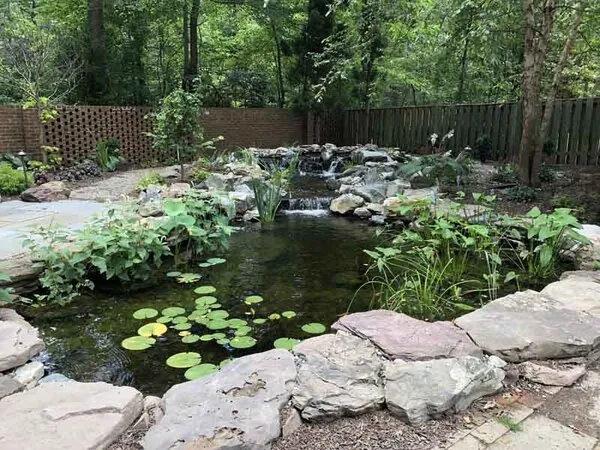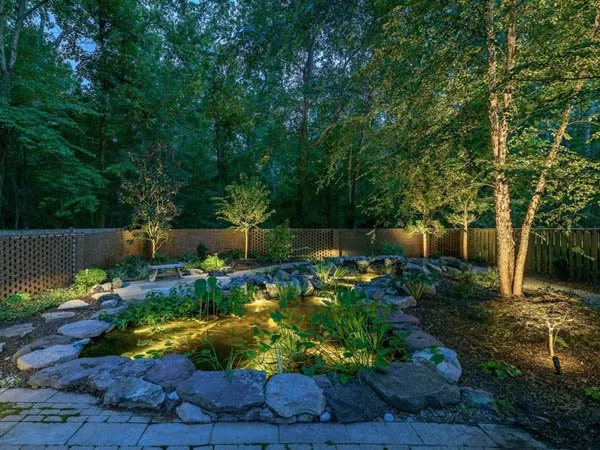 Underwater lighting is an awesome idea for koi ponds. The lights turn the pond into a magical grotto, especially when you see the flashing fish scales.
This koi pond is one of our biggest and best. It has just about everything a pond owner could want, making it low maintenance and high enjoyment.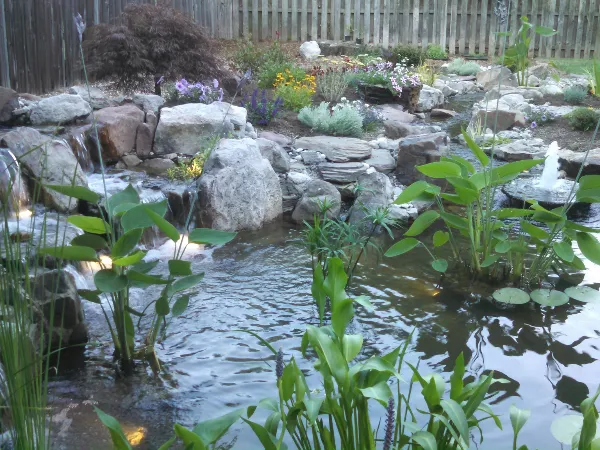 One popular backyard koi pond idea is to put fountains in the pond. It creates a whole new look and adds more of the relaxing running water sound people love.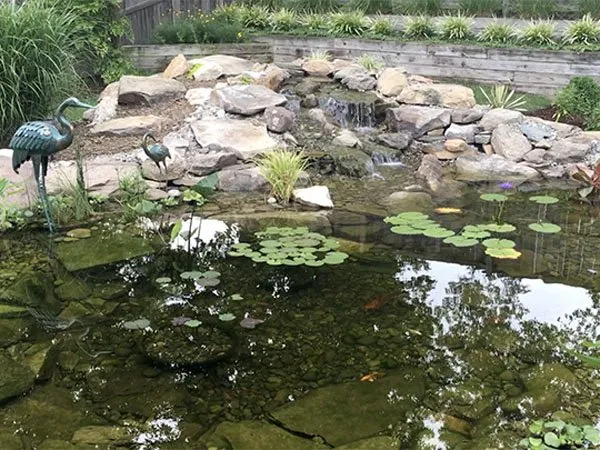 You can also use statues and other decorations to create a beautiful and unique look for your backyard pond.
You May Also Like To Read
"Wow, these backyard koi pond ideas are great! All sizes of them, too," says Matt happily. Christina smiles and nods. "I love it so far, too. Let's see what else we can find on here."