Find Out How Much A Pond Cleaning Costs In Washington, DC, Baltimore, And Surrounding Areas
5,000+ ponds cleaned since 2001
When Is the Right time to clean your pond?
Some signs indicate whether or not pond cleaning is needed. Let's take a look at some of the most common ones: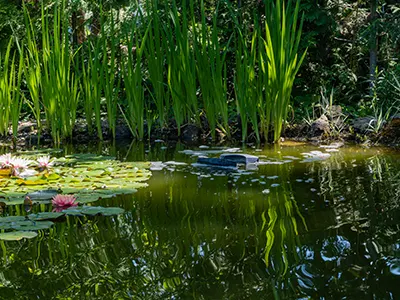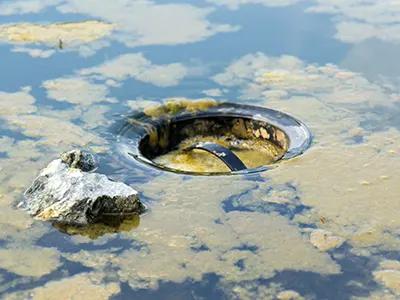 A Pricing Guideline for pond cleaning
At Premier Ponds, we advocate transparency when pricing our pond cleaning services because we believe our clients must know what to expect. Find out what a professional pond might cost by looking at the examples below.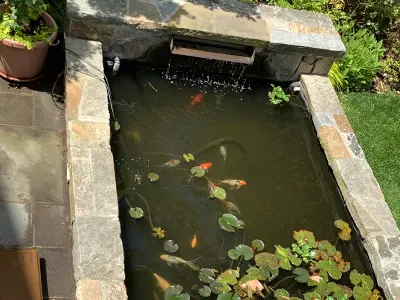 Quoted price $990
Here is what we can see in this specific scenario:
It's a 5×5 pond with a dozen fish.

Lilies are all bunched up.

There's no visible bottom, which means it's full of sludge.

It's a modern pond, so if there's an issue to be fixed, we have to go in and jackhammer the surface before moving forward with repair work.
Quoted price $1,500
Here are the specifics of this particular pond:
It's a 10×10 pond with a dozen fish.

Homeowners maintained it for years.

The bottom is visible.

The pond has natural rocks, so the power washing process is more straightforward.
Quoted price $2,500
Here are the details of this pond situation:
It's a 12×30 pond with big fish.

The depth of the pond is shallow.

There's algae growth.

It hasn't been cleaned in 2 seasons.

The owner cleaned the filters himself.
Large Pond Cleaning - Extensive
Quoted price $4,500
This pond comes with a different set of challenges:
It's an 8×25 pond with fish.

It hasn't been cleaned in over ten years.

There are overgrown plants (Anacharis or weed).

There is duckweed over the surface that we need to remove.

 
Get a more accurate estimate for your pond cleaning by using the sliders in the calculator below. Please get in touch for your final quote.
Drag the sliders to adjust your values
Regular Pond Maintenance - Nice To Have, Or A Must?
At first sight, regular pond maintenance may not seem necessary. But if your pond has fish, you'll want to make sure you're offering them a healthy environment. On top of that, you also want to make sure your pond is beautiful at all times. Meaning, cleaning it out every season isn't just recommended – it's a must.
Let's see the most common signs you should look for before deciding it's time to clean your pond.
Over time, little bits of plant matter fall into your pond. Left unattended, they start to build up and can eventually become a breeding ground for disease. A dirty pond favors hypoxia (or lack of oxygen), which will start killing off your fish.
A first step in preventing a debris build-up is emptying the pond skimmer every couple of weeks. On top of that, using a pond net to pick up dead leaves is also good practice. Keeping your pond free from debris allows your filtration system to do its job and perform at the best parameters.
Another pond maintenance issue is animal waste, which you'll get in abundance if you have fish and frogs in your pond.
Your fish and critters produce waste too, so it's essential to have a sound filtration system in place. If not, the water's balance will get disrupted, which will create more issues with your fish in return.
Pond maintenance doesn't stop at cleaning only. You'll also have to keep pond algae from getting out of hand. The first step is adding chemicals that will control their growth. These chemicals are safe for your fish and prevent algae build-up.
Another good practice is cleaning out the water's surface every couple of weeks with a skimmer net. But, if the situation has gotten out of hand, the safest option is to have a professional take care of it.
Choosing The Right Pond Maintenance Contractor
Pond cleaning is a homeowner's responsibility. However, suppose you're lacking the time or knowledge to keep yours clean by yourself. In that case, you'll need to find the right pond maintenance professionals to complete the job.
While the work may seem simple – especially for smaller ponds – choosing the right team comes with its challenges. Not all pond cleaning companies are the same, and their services vary widely. So choosing the right contractor for your pond maintenance is essential for enjoying a healthy pond.
Where To Start And What To Look For
As a homeowner, you must decide what kind of pond cleaning professionals to hire and then search for those whose services most closely match your needs.
The right pond contractor will advise you on how often cleaning should be done and your pond's specific needs.
It's also vital that you're aware of your options before making a final decision. So how do you go about choosing the right pond cleaners for your pond?
Here are some tips that can help you find the best pond professionals possible:
Ideally, your team members should be native English-speakers or otherwise fluent in English.
They should always be ready and prepared to answer your questions.
A professional team will be highly trained and able to give you advice and recommendations related to your pond and future pond cleaning operations.
When working with Premier Ponds, you'll receive a Report card where we inform you of the state of your pond and offer expert solutions for your specific situation.
Although our schedule is typically full from March until mid-May, we do get cancellations which gives our calendar some leeway with availability.
If your water feature requires urgent care, give us a call and we'll be happy to check on our availability for you.
What's Impacting Your Final Pond Cleaning Cost?
Pricing doesn't have to be a mystery. When you start planning for your pond cleaning budget, you should know that there are quite a few things that will impact the final cost:
Frequently Asked Questions
When you're planning to have your pond cleaned by a professional team, it's only natural to have some questions about the whole process. That's even more likely to happen if you haven't been happy with your previous pond contractor.
When choosing a pond cleaning contractor, it's essential to ensure an excellent fit for personality and work ethic. To save you some time while doing your research, we've compiled a list of Frequently Asked Questions on pond cleaning.
Honest Feedback From Real Pond owners
We let our work speak for itself! We love to hear from our satisfied customers. Read what they say about the quality of our services so you can make an informed decision when choosing Premier Ponds to build the pond of your dreams!
I highly recommend this company. The absolute best customer service ever. Mike and his team member did an outstanding job cleaning and repairing my ponds.
Mike answered all of our questions in detail. You can see the compassion they had while caring for the ponds. I had my initial call with Andrew and I was super excited for Premier ponds to come out.
My advice to anyone looking for excellent service call Premier Pond. They aim to please.
Very impressed with the attitude of all the gentleman that we worked with. They worked hard and weren't afraid to get dirty! I appreciate the patience with which they answered my questions and provided helpful information.
Premier Ponds has the best service for ponds in the Washington, D. C. area. I have been using them for years and they always come through with superior service. The cleaning service is a life saver for me and I enjoy my pond more since using their services. If you want an enjoyable oasis in your yard contact Premiere Ponds for installation or service.
Treat Your Pond To The Premium Cleaning It Deserves