1,000+ ponds constructed and repaired | 5,000+ ponds cleaned | Active in Maryland, DC, and Northern Virginia since 2001
Enjoy Nature's Wonders Year-Round With A New Pond
Are you ever bored by your backyard? Or do you feel like it's missing something important? It's hard to feel at peace in your home when you feel like it's incomplete.
It breaks our hearts to hear people say anything like that about their outdoor space. The backyard is where you can easily enjoy the outdoors and get back in touch with nature.
You can fix this by installing a backyard pond! That boring, grassy area will spring to life. You'll love relaxing on your patio, listening to the calming sound of running water as you gaze at your colorful pond plants, a splashing waterfall, and the slow swimming of your koi fish.
Let's turn your yard into a space you want to be in every day.
Pondless Water Features To Perfect Your Outdoor Space
Right now, you might be thinking about your backyard area and how a pond might not be the best choice for it. You still love the idea of a water feature, but is there another option?
You can bring the same benefits of a new pond to your home, but without the pond part!
Pondless water features are streams and waterfalls that don't have a pond basin. You'll get the relaxing sound of running water and the greenery of pond plants, all without taking up a lot of space.
You'll also be doing even less maintenance than if you had one of our low-maintenance, ecosystem ponds.
Let's find the right pondless water feature to perfect your outdoor space.
Experience The Benefits Of A Well-Maintained Water Feature
Water features are just like anything else you own – you'll enjoy it more by keeping it clean and well-maintained.
You'll love always being able to see through crystal clear water right to the rocky bottom of your water feature. We'll also check on the health of your feature. This means making sure everything's working properly and there are no leaks.
The best part is the peace of mind that comes with regularly maintaining your water feature. You and your family will have more time to relax without the pressure of having to clean your pond regularly.
Let us keep your backyard oasis clear and beautiful.
Our Water Feature Services
Whether you already have a pond or you want to enhance your outdoor experience, we're here to help.
Premier Ponds Ensures You And Your Family Are Taken Care Of
You might find it a bit stressful to think about strangers coming in to work on your property. That's perfectly normal, everyone does (our past several thousand customers felt this way about us at the start).
This is why we work hard to be transparent in everything we do, from showing you who we are to how we do our jobs. Our top priority, besides giving you a water feature you love, is to make you feel comfortable and secure with us.
We want to make sure you'll enjoy each step and that you're 100% happy with the outcome of our work.
Enhance Your Contractor Experience
Andrew Lingan and Mike Kurylo, owners of Premier Ponds, are on a mission. Since 2007, they've been working to help homeowners find more peaceful moments in their homes.
But, you can't find these moments if every time you see your water feature you remember how frustrating it was to work with your contractor.
This is why, after years of experience in the pond construction industry, Andrew and Mike agree there's nothing more important than listening to and caring for their clients.
This is why Premier Pond's team communicates with you every step of the way. You'll know when we're starting, when we'll arrive, what we'll be doing, and more.
You deserve an experience as amazing as your water feature.
How Our Water Feature Services Work
We're here to bring your project to life while giving you the chance to relax and start envisioning the end result. Our easy process will turn your water feature experience of having your unique water feature built into an inspiring and unforgettable journey.
Fill out our form and tell us about your desired water feature or service. We'll have a phone consultation to discuss the details of your project and answer any questions you may have.
After we understand your vision, we'll start building, renovating, or cleaning your water feature. We'll help you with recommendations and keep you updated on our progress. You and your family will be able to enjoy your beautiful outdoor setting in no time.
Your entire outdoor area has come to life. Your family and friends can now come together and enjoy the benefits of nature in your own yard. You've made a decision to give yourself more moments of serenity and peace than you thought possible.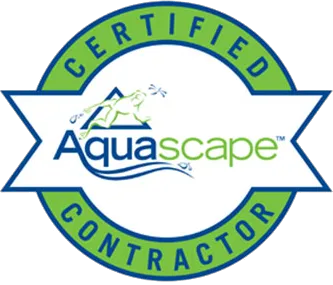 An Award Winning Pond Company
Premier Ponds is an Aquascape Certified Contractor ready to tackle the most complex and demanding pond projects. As 2014 and 2016 Pond Company Of The Year, we have helped DC, MD, and NoVa residents with pond maintenance, renovation, and construction for 20 years and counting.
Happy Homeowners Like You Say
We let our work speak for itself! We love to hear from our satisfied customers. Read what they say about the quality of our services so you can make an informed decision when choosing Premier Ponds to build the pond of your dreams!
I Highly recommend this company. The absolute best customer service ever. Mike and his team member did an outstanding job cleaning and repairing my ponds.
Mike answered all of our questions in detail. You can see the compassion they had while caring for the ponds. I had my initial call with Andrew and I was super excited for Premier ponds to come out.
My advice to anyone looking for excellent service call Premier Pond. They aim to please.
Everyone at Premier Ponds has been great. Andrew is always very responsive and his entire team is professional and courteous while on site.
The end-product is beautiful and my clients have been very happy with their services. I'd highly recommend them.
I highly suggest hiring the guys at Premier Ponds to build your dream pond! I had long wanted a natural swimming pool or a pond in my yard for both my benefit and the birds and bees that visit my yard. My area is awash with mosquitos, so I was, additionally, wanting to attract and retain a healthy population of dragonflies.
I first worked over the phone with Andrew to discuss the size and options. He was extremely friendly and answered any follow-up questions I had over the next few weeks. The before and after pictures as well as videos they have on their website were also really helpful and gave me an idea of what to expect. The best bonus of all is that within a week of installation, I had both orange and blue dragonflies that took up residence and eviscerated the mosquito population! I'm calling that a win!
Give Yourself Moments Of Serenity With A Beautiful Water Feature