1,000+ ponds constructed and repaired | 5,000+ ponds cleaned | Active in Maryland, DC, and Northern Virginia since 2001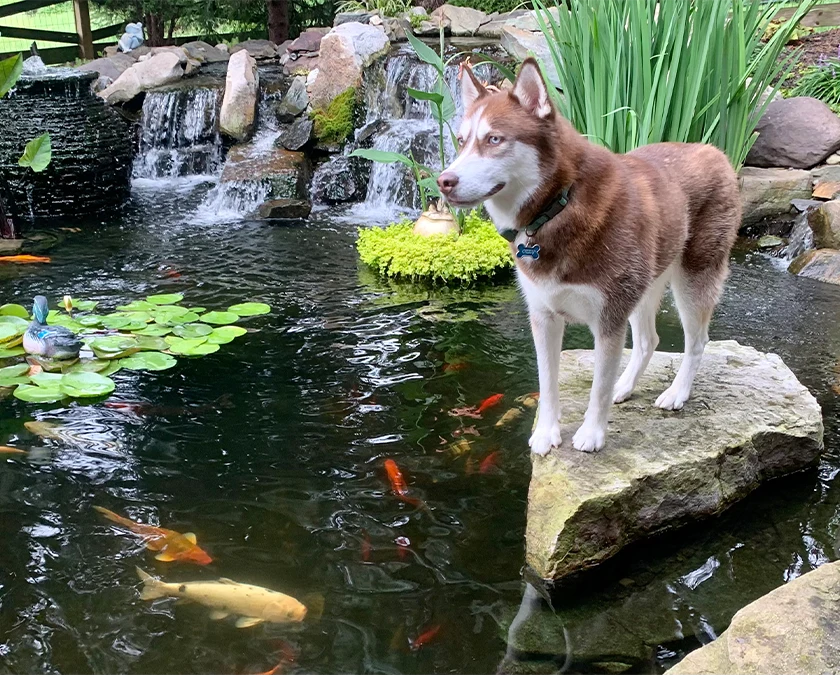 Enjoy Nature's Wonders Year-Round With A New Pond
Is your backyard underwhelming? Do you feel like your landscape is missing something? Are you at peace in your backyard, or do you feel your outdoor sanctuary is incomplete?
The backyard is an opportunity for you to connect with nature, family, and friends.
By including water features in your yard, you will replace that boring grassy area with a landscape you'll be proud to share!
Enjoy life relaxing on your patio, listening to the magical sound of a waterfall or flowing stream as you gaze upon your colorful koi, and flowering aquatic plants. Partner with the DMV's top-rated pond contractor to transform your yard into an outdoor masterpiece!
Pondless Water Features Perfect Your Home's Outdoor Space
Ever want the comforts of nature and water without a full pond? Great News! You can still enjoy a water feature in your yard.
A pondless system is a water feature involving streams and waterfalls without a pond basin! Take advantage of the relaxing sound of running water and the enjoyment of a pond while all in less space than needed for a pond.
A pondless water feature is even less maintenance than one of our low-maintenance ponds. Let's find the right pondless water feature to perfect your outdoor space.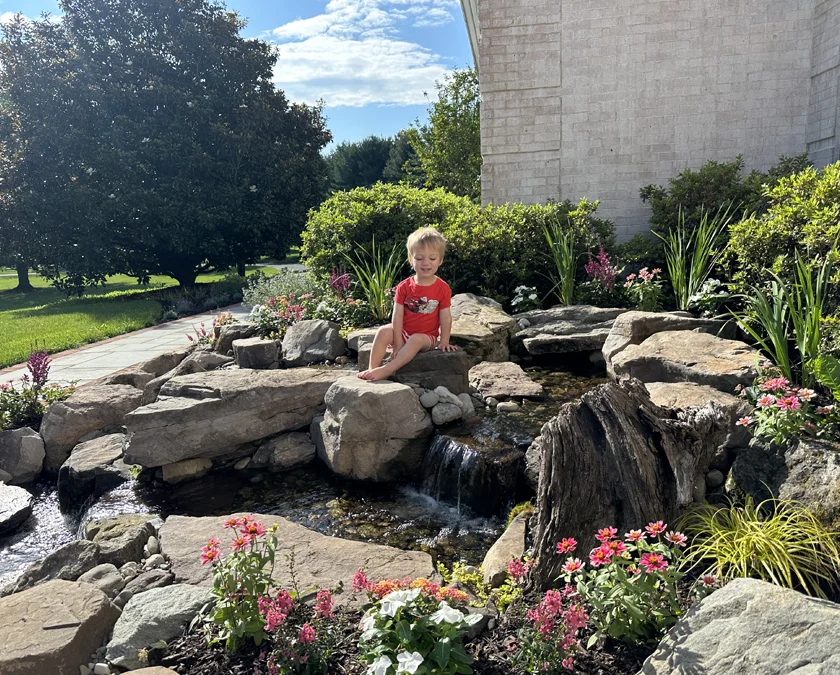 Experience The Benefits Of A Well-Maintained Water Feature
Water features are magical ecosystems that transform an outdoor space, but the best aquatic experience requires the best care.
With over two decades of experience in turning ponds from green to pristine, our passionate team provides top-tier expertise & can completely revitalize your existing feature.
As a pond contractor in the DC, MD, and VA region since 2001, we've cleaned thousands and thousands of ponds. So if you have a pond problem, we're here to help!
Our Pond & Water Feature Services
Whether you already have a pond or you want to enhance your outdoor experience, we're here to help.
As An Award-Winning Pond Contractor, Your Family's Happiness Is Our Priority
You might find it a bit stressful to think about strangers coming in to work on your property. That's perfectly normal, everyone does (our past several thousand customers felt this way at the start).
This is why we work hard to be transparent in everything we do, from showing you who we are to how we do our jobs. Our top priority, besides giving you a water feature you love, is to make you feel comfortable and secure with us.
We want to make sure you'll enjoy each step and that you're 100% happy with the outcome of our work.
Enhance Your Pond Contractor Experience
Andrew Lingan and Mike Kurylo, owners of Premier Ponds, are on a mission. Since 2007, they've been working to help homeowners find more peaceful moments in their homes.
But, you can't find these moments if every time you see your water feature you remember how frustrating it was to work with your contractor.
This is why, after years of experience in the pond construction industry, Andrew and Mike agree there's nothing more important than listening to and caring for their clients.
This is why Premier Pond's team communicates with you every step of the way. You'll know when we're starting, when we'll arrive, what we'll be doing, and more.
You deserve an experience as amazing as your water feature.
How Our Pond & Water Feature Services Work
We're here to bring your project to life while giving you the chance to relax and start envisioning the end result. Our easy process will turn your water feature experience of having your unique water feature built into an inspiring and unforgettable journey.
Fill out our form and tell us about your desired water feature or service. We'll have a phone consultation to discuss the details of your project and answer any questions you may have.
After we both agree on the vision, we'll start building, renovating, or cleaning your water feature. We'll help you with recommendations and keep you updated on our progress. You and your family will be able to enjoy your beautiful outdoor setting in no time.
Your entire outdoor area has come to life. Your family and friends can now come together and enjoy the benefits of nature in your own yard. You've made a decision to give yourself more moments of serenity and peace than you thought possible.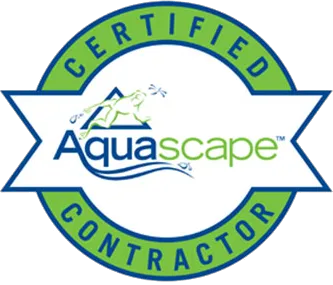 An Award Winning Pond Contractor
Premier Ponds is an Aquascape Certified Contractor ready to tackle the most complex and demanding pond projects. As 2014 and 2016 Pond Company Of The Year, we have helped DC, MD, and NoVa residents with pond maintenance, renovation, and construction for 20 years and counting.
Happy Homeowners Like You Say
We let our work speak for itself! We love to hear from our satisfied customers. Read what they say about the quality of our services so you can make an informed decision when choosing Premier Ponds to build the pond of your dreams!
I Highly recommend this company. The absolute best customer service ever. Mike and his team member did an outstanding job cleaning and repairing my ponds.
Mike answered all of our questions in detail. You can see the compassion they had while caring for the ponds. I had my initial call with Andrew and I was super excited for Premier ponds to come out.
My advice to anyone looking for excellent service call Premier Pond. They aim to please.
Everyone at Premier Ponds has been great. Andrew is always very responsive and his entire team is professional and courteous while on site.
The end-product is beautiful and my clients have been very happy with their services. I'd highly recommend them.
I highly suggest hiring the guys at Premier Ponds to build your dream pond! I had long wanted a natural swimming pool or a pond in my yard for both my benefit and the birds and bees that visit my yard. My area is awash with mosquitos, so I was, additionally, wanting to attract and retain a healthy population of dragonflies.
I first worked over the phone with Andrew to discuss the size and options. He was extremely friendly and answered any follow-up questions I had over the next few weeks. The before and after pictures as well as videos they have on their website were also really helpful and gave me an idea of what to expect. The best bonus of all is that within a week of installation, I had both orange and blue dragonflies that took up residence and eviscerated the mosquito population! I'm calling that a win!
FAQs Homeowners In Ask Us
Here are the answers to the most common questions people ask a pond contractor:
Are backyard water features worth the cost?
While water features might not directly increase your home's monetary value, they undeniably boost its aesthetic appeal.
Where should I put my water feature?
The placement of your water feature depends on your garden's layout. Ponds work well where they can be seen from windows or outdoor living spaces. Pondless waterfalls can be situated near entrances, in corners, or even stretching down a hillside. For gardens with a formal design, central placement of a fountain can create a captivating focal point, or consider positioning it at a pathway intersection. In more informal gardens, a fountain can be subtly located in a corner or along a garden path.
Which outdoor water feature is easiest to maintain?
Fountains, particularly bird baths, are simple and easy-to-maintain water features. They not only enhance your garden but also invite wildlife into your outdoor space. With no need for pumps, filters, or expensive installation, bird baths are an economical way to introduce a water element to your yard.
How expensive is it to run a backyard water feature?
The operational cost of a water fountain can differ based on its size and type. Generally, expect to spend around $27 per month to run a water fountain, though this can vary between $11 and $50.
Give Yourself Moments Of Serenity With A Beautiful Pond or Water Feature