A Trustworthy Team Dedicated To Bringing Serenity Into Your Life
1,000+ ponds constructed and repaired | 5,000+ ponds cleaned | Active in Maryland, DC, and Northern Virginia since 2001
Meet Owners Andrew Lingan And Mike Kurylo
Andrew Lingan became the majority owner of Premier Ponds in 2021. While still in high school, he was the apprentice of Steve Shinholser, the company's founder. Over the years, Andrew became a pond expert and gained the necessary business skills to run the business himself. 
Andrew met Mike Kurylo, who, alongside Steve Shinholser, made Premier Ponds a leading company in water feature construction in Maryland. Mike's craftsmanship and artistry make him an expert in pond building. However, his main focus is the well-being of his customers. That's why he makes sure he communicates smoothly and listens carefully to every homeowner that chooses him to revive his backyard.
Andrew and Mike continue Steve's legacy with a modern approach by giving all homeowners the chance to design and order their dream ponds and bring their ideal backyard to life quickly and hassle-free.
Passion, pride, attention to detail. Working with Premier Ponds guarantees the best possible expertise and care for your water feature. Our knowledgeable staff is proud to build or clean your pond, and we consider your trust a true privilege. 
And we deliver— longtime clients frequently reference our incredible customer service. As a leading industry professional, our highly-strategic processes and meticulous practices ensures the pond of your dreams will be brought to life.
Our team of professionals will give you recommendations and help you choose the suitable water feature for you. After that, they'll start building your pond or waterfall based on your vision. All you have to do is share your vision with us and let us make it a reality. Please grab a cup of coffee, let us do the work, and start envisioning your dream pond!
A trustworthy team committed to transforming your outdoor space into an oasis of tranquility: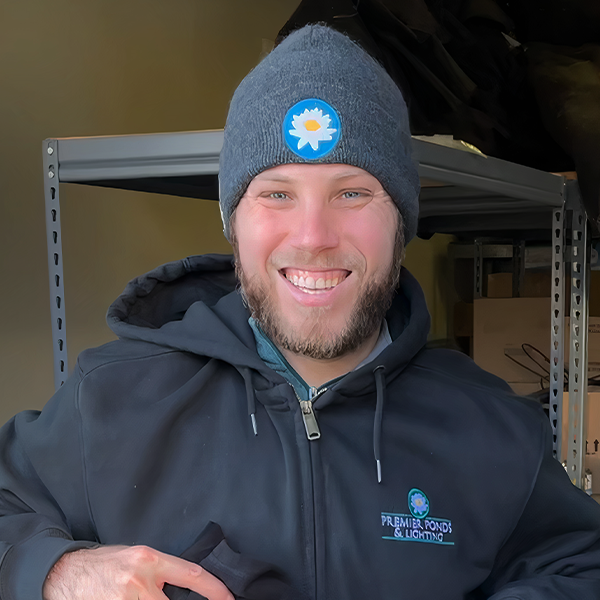 Andrew's guiding role at Premier Ponds was perhaps destiny. Legend has it that long ago, while still in high school, Andrew became founder Steve Shinholser's direct apprentice, studying the vast, growing world of water features. Over the ensuing years, he mastered the art of building ponds, all while gaining the necessary business acumen to one day run the show himself. By 2021, Andrew had become the majority owner of Premier Ponds, but the story is only beginning. As something of a visionary, Andrew envisions a world where virtually-anyone can design and order their dream water feature, and bring their ideal backyard to life.
An industry icon, with a remarkable backstory. Mike actually roomed with Aquascape founder & CEO Greg "The Pond Guy" Wittstock at Ohio State University during his college days, building a couple ponds here and there back when the industry was virtually a mere idea. Mike then went the 'suit & tie' route, working in building design and planning, but the passion was instilled within him. Thus after nearly two decades in architecture, Mike knew it was time to bring his inner artistry to backyards across the region, and alongside founder Steve Shinholser, "Premier Ponds" as we know it was born. A founding father in the world of water features, the respect for his craft runs deep. But perhaps moreover, as a 'Macgyver' figure on-site, there's virtually no issue your pond is experiencing that Mike can't fix.
Now in his third year with Premier Ponds, crew lead "Kuzi" is well-recognized for his expertise in wildlife identification as well as his lively, colorful persona. But he's perhaps most known for his grit; Kuzi is often the first to arrive at a site and the last to leave, and he's never afraid to get dirty. This young phenom will stop at absolutely nothing to ensure your water feature reaches the "Premier" standard!
"Hey guys!" Sounds familiar? Since joining Premier at the start of 2021, Roger has demonstrated an unmatched drive for learning the ins and outs of building and maintaining water features. And he loves to share this knowledge—Roger has become a popular figure on Premier Ponds' social media, breaking down everything from water levels to the importance of retaining walls. He's a welcoming, friendly character, so if you have a question about ponds… just shoot, Roger has the answer!
From Baltimore County comes a true artist, affectionately known as "Big Country." When a rich background in natural landscape design & strategy meets a longtime passion for eccentric water action, you could say you have the ultimate water-feature artist— and that's exactly the case here. Kevin's handcrafted cascades are second-to-none; clients often remark that his strategic & truly-tireless approach to the "perfect waterfall" is awe-inspiring. A backyard-visionary, our resident designer can offer insights on everything from retaining walls to native pollinator plants— you dream it, Kevin finds a way to make it reality!
Our expert electrician George has performed electrical work around the country, from Chicago to D.C. and beyond. Premier CEO/Owner Lingan found the virtuoso when George was installing gorgeous, yet elaborate, lights in his new home; recognizing his talent, George was quickly brought onto the team in 2021. And he's certainly been a powerful force—his laugh is contagious, his presence is dynamic, and most of all, his final products are unparalleled in the world of illumination & lighting.
Sam came aboard during the fall of 2021. His presence was immediately felt; much like a cascading waterfall, Sam has a certain calming aura that everyone can relate to. The sage youngster is composed and calm under pressure!
From working with GEICO and Gatorade to Dish Network and Yuengling, Mark has a rich background in brand strategy and digital media. But after arriving at Premier early in 2021, he realized bringing the vivid world of "Premier Ponds" to the public was his true calling. A lifelong pond fanatic at heart, Mark's energy and passion for the clients and crew alike has made him a brand ambassador for Premier. From feature-length project documentaries to pursuing sponsorship opportunities, Mark lives to promote and highlight the incredible ongoing story of Premier Ponds & Outdoor Lighting!
They call him "Prime Time", and from the moment he steps into your backyard you'll understand why. Matt's on-site presence is defined by his charisma and flair, as well as his sophisticated touch. This gifted hotshot worked with Premier before taking a brief winter hiatus, but the announcement of his return thrilled the company and shocked the water feature industry. Whether he's pressure-washing your rocks or crafting your new basin, when "Prime Time" is on the job, the magic is palpable.
Happy Homeowners Like You Say
We let our work speak for itself! We love to hear from our satisfied customers. Read what they say about the quality of our services so you can make an informed decision of choosing us to build the pond of your dreams!
Top notch service and professional work! I never have to worry about Premier Ponds coming to clean the pond or do maintenance–they always call or text ahead of time. I couldn't have been happier with the new spillways and biofilter they installed! My fish are thriving! And the plants are GREAT!
Probably the most efficient company I've ever worked with. They say what they are going to do and do it. I was on a work call when they arrived, but the technician set up a system to drain the pond, so when I came outside, I was amazed at how much was accomplished in the short amount of time. Then, he went about his work and got our pond (dormant for 7 years) up and running! We were so excited. Highly recommended! 
Premie Ponds reconstructed our water feature and it is superior in so many ways to our previous water feature. Premier Ponds which is family-owned is a great example of what professionals should look like!
Have An Experienced Team Turn Your Backyard Into A Paradise