A Comprehensive Guide For Pond Building In Washington, DC, Baltimore, And Surrounding Areas
1,000+ ponds built since 2001
Owning a pond is the highlight of home living. Not only is it a beautiful addition to your landscape, but it also attracts wildlife and provides a space for children and pets to play.
If you've moved into a home with a pond that has seen better days, or you've always wanted a pond and don't know where to start, you're at the right place.
We'll help you find out what goes into the actual process of building a pond, what costs you might be looking at, and what you should expect from your pond contractor.
Let's get started.
At Premier Ponds, we advocate transparency when pricing our pond construction services because we believe it's vital that our clients know what to expect. Find out what a professional pond might cost by looking at the examples below.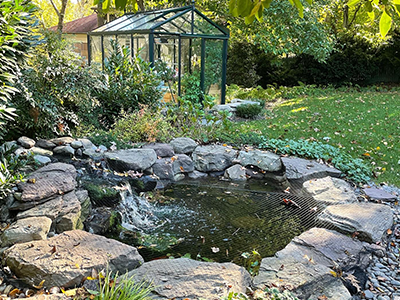 Includes up to an 8x10 pond, pump, filtration system, rocks, and a waterfall.
Average Pond Construction*
Includes a 12x15 pond, an upgraded pump, an enhanced filtration system, rocks, and an upgraded waterfall.
High-End Pond Construction*
Includes a 15x25 pond, an upgraded pump, a premium filtration system, rocks, and an upgraded waterfall.
Custom Pond Construction*
Our "sky is the limit" package includes a 25x25 pond and every upgrade and feature that you want for your pond.
Advanced options for your pond can include**
Outdoor lighting options for your pond can include**
*Prices are averages and may change depending on the size of your pond and your choice of systems and upgrades. You'll receive an exact quote for your unique pond construction after the in-home consultation.
** Upgrades like fish tunnels and plants need to be added during pond construction.
Upgrades such as lighting, aeration systems, ionizers, etc., can be added at a later stage.
Get a more accurate estimate for your new pond by using the sliders in the calculator below. Please get in touch for your final quote.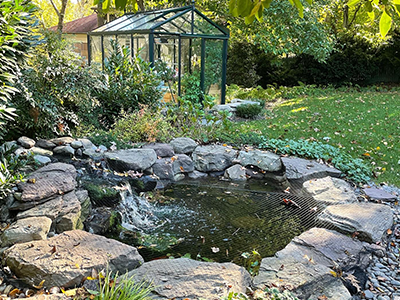 Drag the sliders to adjust your values
What drives the cost of your new pond?
The cost of building a pond can vary depending on many factors. The pond's location, its size and complexity, and the type of materials are just a few of the essential aspects. Let's examine them one by one.
Before starting any pond, you have to make sure that the site is suitable for building. Prior to digging, you'll need to be aware of any underground utilities such as gas lines or electrical wires. It may be necessary to contact your utility companies to mark these for future reference.
Suppose you're building the pond on your property. In that case, you should have zero cost with the land, other than those associated with clearing trees and vegetation – if needed.
Pond shapes can range from natural-looking ponds with waterfalls to formal geometric ponds with carefully designed stone edges. Traditionally-shaped ponds are the most commonly built ponds for new pond construction.
Naturally, pond size will also affect the pond construction cost. A small pond of 10×10 sq. ft. can be built starting at $12,000, while a large pond that spans over 400 sq. ft. could easily cost you more than $50,000 depending on how it is designed or customized.
Don't forget about the fish! Koi ponds are some of the most common fish ponds. The cost of building a koi pond will vary depending on the pond size and how many fish you intend to add.
The size and type of fish will also play a role in the final cost because some types are more expensive. A pond can also host goldfish, tilapia, turtles, and many more among koi.
Pond plants can add beauty to a pond, but they do add to the final cost of the project as well. Choosing smaller plants can help you offset the cost.
Water lilies are one of the most popular options for a small pond as they will spread their leaves throughout the pond and provide shade to fish. They're also effortless to maintain, so if you want to keep your spending on the lower side, this is one of the best options to go for.
When building any water feature, it's vital for pond owners to understand that beauty does come with a price. But as with any major home project, it's recommended to invest in higher-quality materials upfront than risk facing unnecessary repairs down the road.
Besides a solid liner and natural-looking rocks (which make up for a significant part of the investment), your pond's equipment is essential. Here are the must-haves for a pond that are sure to impress anyone.
Choosing Your Pond Contractor
Building A Pond Is A Big Deal
Turning an empty backyard into a natural oasis is a big undertaking and definitely one you shouldn't have to tackle by yourself.
Finding someone you can trust is the first step to getting your vision from paper to real life. Pond building is more than digging a hole and adding water and fish to it, so you want to make sure everything gets done right.
A skilled pond contractor will advise you on what solutions are best suited for your unique idea. Besides creativity, there are other essential aspects you should look for when hiring a pond contractor.
What Aspects To Consider And Why
When trying to determine who is the right contractor for your new pond project, start with these four elements:
The Premier Ponds Approach
At Premier Ponds, our goal is to give our customers the best experience at all times. So when you choose to work with us, you'll have a team that's ready to turn your ideas to life while exceeding your expectations.
When you work with Premier Ponds, you can rest assured that our team will fully understand your needs and expectations from the beginning.
Our team members are native English-speakers or are otherwise fluent in English. They're always ready to answer your questions.
We've been in business for over two decades and have built over 1,000 ponds. We've completed all our projects with great attention to detail and care.
If you have any custom ideas or requirements, feel free to share them with us and we'll help you turn them into reality.
Our team is highly trained and able to tackle any situation related to the pond construction process.
We'll offer our advice and recommendations related to your unique pond and provide a report card when we've finished working on your project.
Although our schedule is typically full from March until mid-May, we do get cancellations which gives our calendar some leeway with availability.
If your pond requires urgent care, give us a call and we'll be happy to check on our availability for you.
Frequently Asked Questions
When you're planning to have your pond built by a professional team, it's only natural to have some questions about the whole process. That's even more likely to happen if you haven't been happy with your previous pond contractor.
When choosing the right team to build your pond, it's essential to ensure an excellent fit for personality and work ethic. We've compiled a list of Frequently Asked Questions on pond construction to save you some time while doing your research.
Honest Feedback From Real Pond owners
We let our work speak for itself! We love to hear from our satisfied customers. Read what they say about the quality of our services so you can make an informed decision when choosing Premier Ponds to build the pond of your dreams!
Everyone at Premier Ponds has been great. Andrew is always very responsive and his entire team is professional and courteous while on site.
The end-product is beautiful and my clients have been very happy with their services. I'd highly recommend them.
I highly suggest hiring the guys at Premier Ponds to build your dream pond! I had long wanted a natural swimming pool or a pond in my yard for both my benefit and the birds and bees that visit my yard. My area is awash with mosquitos, so I was, additionally, wanting to attract and retain a healthy population of dragonflies.
I first worked over the phone with Andrew to discuss the size and options. He was extremely friendly and answered any follow-up questions I had over the next few weeks. The before and after pictures as well as videos they have on their website were also really helpful and gave me an idea of what to expect. The best bonus of all is that within a week of installation, I had both orange and blue dragonflies that took up residence and eviscerated the mosquito population! I'm calling that a win!
Very impressed with the attitude of all the gentleman that we worked with. They worked hard and weren't afraid to get dirty! I appreciate the patience with which they answered my questions and provided helpful information.
Enhance Your Property With The Pond Of Your Dreams