Your Go-To Guide For Pondless Water Feature Building In Washington, DC, Baltimore, And Surrounding Areas
1,000+ ponds constructed and repaired | 5,000+ ponds cleaned | Active in Maryland, DC, and Northern Virginia since 2001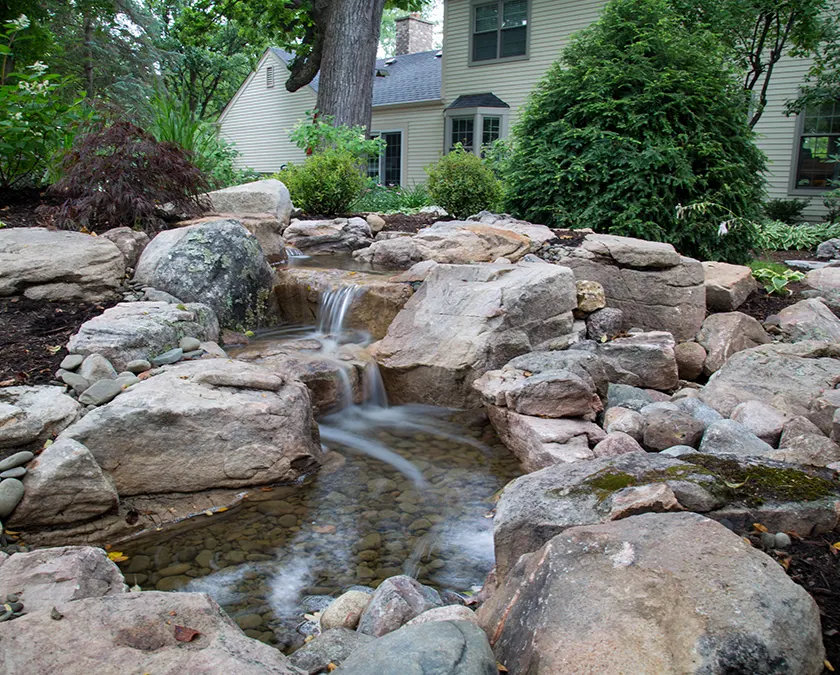 Building a pondless water feature is a fantastic way to add value to your home and landscape. If you've always enjoyed being in the presence of water but you're not ready for the maintenance a pond may require, you're in the right place.
You'll see your home in a new light once this natural asset is added to your landscape. Before starting on the journey towards a pondless water feature, find out what the process looks like and what kind of investment it requires.
Let's dive in.
A Pricing Guideline for pondless waterfall construction
At Premier Ponds, we advocate transparency when pricing our services because we believe it's essential that our clients know what to expect. Find out what a professional pondless waterfall might cost by looking at the examples below.
Basic Pondless Waterfall*
Quoted price $9,500
Here is what this specific design can include:
A small basin starting at $5,000

10 ft. long stream at $450/linear ft.

An average waterway of 1.5 ft. wide

Small-sized boulders

A 3000 gallon per hour pump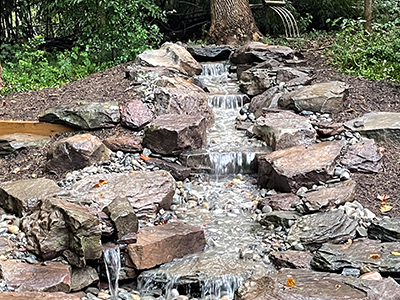 Average Pondless Waterfall*
Quoted price $19,250
Here is what this specific design can include:
An average basin starting at $8,000

25 ft. long stream at $450/linear ft.

An average waterway of 2 ft. wide

Medium-sized boulders

A 3000 gallon per hour upgraded pump
High-End Pondless Waterfall*
Quoted price $30,500+
Here is what this specific design can include:
Large basin starting at $12,500

40 ft. long stream at $450/linear ft.

An average waterway of 2 to 4 ft. wide

Large-sized boulders

A 5000 gallon per hour pump
Advanced options for your pondless water feature can include:
Outdoor lighting options for your pondless water feature can include:
*Prices are averages and may change depending on the size of your pondless waterfall and your choice of systems and upgrades. Extra upgrades are optional and are quoted separately. You'll receive an exact quote for your unique pondless waterfall after the in-home consultation.
Get a more accurate estimate for your new pondless construction by using the sliders in the calculator below. Please get in touch for your final quote.
Drag the sliders to adjust your values
What drives the cost of your pondless water feature?
The cost of building a pondless water feature can be affected by many factors: the length of the stream, the size of the basin, the design of the project, and to some extent, and your personal preferences and custom upgrades. You can create a basic model for around $9.5k, while a more advanced version could cost you up to $30k or higher. Let's see why these aspects matter.
The amount of material required to create your pondless water feature is partially driven by the length of your stream.
Simply put, pondless waterfalls are a re-circulating water system. They rely on an in-ground reservoir and a pump. The size of the basin depends on the size of the stream and the desired incline. In general, most basins are around 24 inches deep. For steeper and more dramatic waterfalls, you can choose to build a more extensive basin.
Pondless waterfalls are the go-to water feature option for many homeowners because of how versatile they are. From simple front entrance streams to large backyard waterfalls, a pondless waterfall adapts to any terrain.
For this reason, it can be challenging to give an exact price before a home consultation. What every water feature owner should always keep in mind is that, regardless of your available space, you can enjoy the beauty and soothing sounds of a pondless feature.
The design of your pondless water feature can increase or decrease your costs. If you decide to upgrade your pondless feature with things like lighting, fountains, and bridges, your price will go up.
That's why it's essential to have a contractor who can help you plan your design as a whole before you start building. The great thing about pondless waterfalls is that it's easier to add to them later compared to other water features.
Pondless waterfalls are more than rocks and boulders. Combined with different plants, they can truly transform your backyard into a natural paradise.
Depending on the number and type of plants you want to add, you're looking at different costs. If you'd like to start small, we recommend you start with a more straightforward look with basic plants.
Fountains are a great addition to a waterfall. From simple bowls to dramatic urns, they require almost zero maintenance.
A basic fountain will not be too expensive, so it's a good choice if you're not looking for something extravagant. If you want more than just the standard one-jet fountain, expansive fountainscapes are also available.
Your Personal Preferences
Water feature owners that own a pondless feature often want to upgrade or add onto their stream eventually. Choosing custom elements is the way to go when you get there. Over the years, we've successfully handled custom requests like using specific types of rocks, lining the outside of the pond with a particular kind of block, adding an extra feeder stream, or adding custom lighting fixtures.
If a custom waterfall is on your mind, here's what you should consider:
Choosing Your Pondless Waterfall Contractor
A Perfect Waterfall Designed For You
Building a pondless water feature can be an exciting project for a homeowner looking to enhance his property. Once you decide what your backyard should look like, choosing the right contractor can help you get that exact result. But how do you know which contractor is the right choice?
There are a few key things to look out for when you're searching for a contractor who can build your pondless water feature. Below, we've highlighted the ones we believe are the most important.
Key Qualities To Look Out For
The Premier Ponds Approach
At Premier Ponds, our goal is to give our customers the best experience at all times. So when you choose to work with us, you'll have a team that's ready to turn your ideas to life while exceeding your expectations.
When you work with Premier Ponds, you can rest assured that our team will fully understand your needs and expectations from the beginning.
Our team members are native English-speakers or are otherwise fluent in English. They're always ready to answer your questions.
We've been in business for over two decades and have built over 1,000 water features. We've completed all our projects with great attention to detail and care.
If you have any custom ideas or requirements, feel free to share them with us and we'll help you turn them into reality.
Our team is highly trained and able to tackle any situation related to the pondless waterfall construction process.
We'll offer our advice and recommendations related to your unique water feature and provide a report card when we've finished working on your project.
Although our schedule is typically full from March until mid-May, we do get cancellations which gives our calendar some leeway with availability.
If your water feature requires urgent care, give us a call and we'll be happy to check on our availability for you.
Frequently Asked Questions
When you're planning to have your pondless waterfall built by a professional team, it's only natural to have some questions about the whole process. That's even more likely to happen if you haven't been happy with your previous pond contractor.
When choosing the right team to build your pondless waterfall, it's essential to ensure an excellent fit for personality and work ethic. We've compiled a list of Frequently Asked Questions on pondless waterfall construction to save you some time while doing your research.
Honest Feedback From Real Pondless Waterfall owners
We let our work speak for itself! We love to hear from our satisfied customers. Read what they say about the quality of our services so you can make an informed decision when choosing Premier Ponds to build the pond of your dreams!
Not "good quality", but "GREAT" quality. Our townhouse backyard is now a highlight in our daily life. The sound of the waterfall, the growth of our fish, the blooming water lily, our frogs. The whole scene draws us daily to enjoy the wonderful landscaped setting. Premier Ponds the best.
ARTISTRY: Came home to our completed projects earlier today: a natural stone wall around a grouping of trees AND a beautiful stream (including two waterfalls) alongside our entryway. When I spoke to Mike last week, he said he was looking forward to "blowing us away" with these projects.
I thought it was slightly dangerous to be setting the bar so high, yet when I walked up my driveway earlier today I was greeted by an amazing WORK OF ART. We are beyond pleased; blown away! I knew my wife would have a similar reaction and I caught that on video. I asked, "0 to 10?" and she answered "Eleven!"
We can't stop gazing at it. And we're as excited to share it with our friends and family as we are to sit on our porch and soak it all in every chance we get. We are amazed at the attention to detail and thoughtfulness that makes it: 1) stunning from every possible angle, 2) balances textures both day and night, and 3) creates a look that is exactly like what you might find in nature.
I had a problem with my backyard water feature built by another company. The other company was unable to fix the problem but Premier Ponds got the system working and it has continued to work without issue for over a year. (Previously I was happy to see it work right for a day or two.) They know their stuff and were friendly and helpful.
Bring More Charm To Your Property With A Unique Pondless Waterfall