Pond LED Lighting: Change How You See Your Pond
Create A Brand New Nighttime View For Your Maryland, DC, Or Northern Virginia Home
With lifestyles as busy as they are today, it is often difficult to enjoy your pond or landscape during the day. Sometimes the evening hours are the only time available for relaxing and enjoying these things. Or maybe you're having a dinner party that takes place after the sun has gone down. So why not bring your pond and yard to life at night?
The Enjoyment of a pond or waterfall can be maximized with the ability to view them at night.  Adding
LED lighting
will add a completely new dimension to your pond or waterfall and extend the hours of their enjoyment.
LED Lighting In The Water
LED lights are factory sealed and designed for use below the water.  Since these lights are fully submersible they are ideal for use in waterfall drops.
Illuminating areas in pools of water and even up-lighting aquatic plants are other ways to add impact.
Pond lighting makes it so relaxing to watch the fish glide through the water as if they are floating through the air.
Highlighting fish tunnels, jets of water, and even shallow water areas are equally amazing with light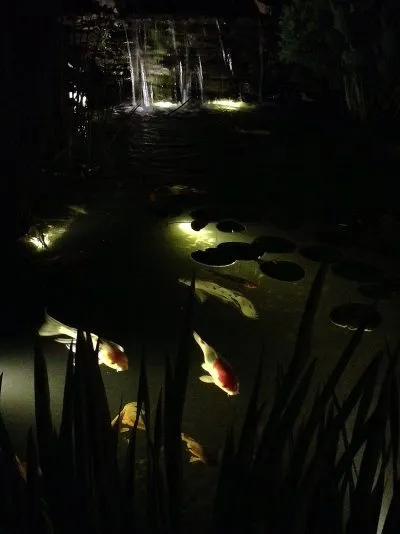 LED Lighting Out Of The Water Too
Lighting up plants doesn't just have to be the aquatic plants either. It's very common and beautiful to highlight plants in garden areas around the pond. Have you ever seen the lighting effects on a Japanese maple?
It's just stunning. A well lit Japanese maple looks like a ball of flames. The LED lights by Aquascape can be placed anywhere an accent is needed. You will be amazed at how versatile these lights can be!
Pond LED Lighting Is Energy Efficient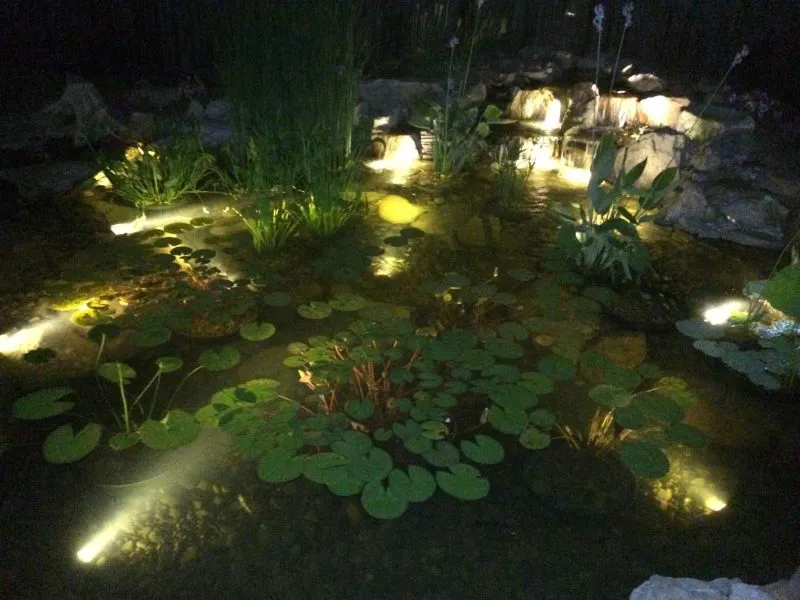 For years, Halogen lighting was the industry standard. Well LED lights are here and are now the latest and greatest! The lights are brighter and are way more efficient. They have a longer lifespan than the halogens and are more friendly for the environment. They are extremely durable and designed to be used in hot and cold temperatures. One huge benefit is that they can be hooked right to the same transformer as the Halogens. So, if you have old Halogens and are considering an upgrade, the LED lights can be replaced without the need of a new transformer.
Finally, aside from aesthetics having your water lit up is a safety benefit. The same reason that people cover their pools at night is true for ponds. Since you won't want to cover your pond every night, installing lights will help you see what's going on in it. Also, a well lit pond will show people where the edges of the pond are so that there is a lower risk of falling in!
Learn more about lighting water features with Premier Lighting >>