POND Renovators AND Pond Builders IN BALTIMORE
Immerse Yourself In Serene Beauty And Tranquility - Enchanting, Calming, And Simply Divine
1,000+ ponds constructed and repaired | 5,000+ ponds cleaned | Active in Maryland, DC, and Northern Virginia since 2001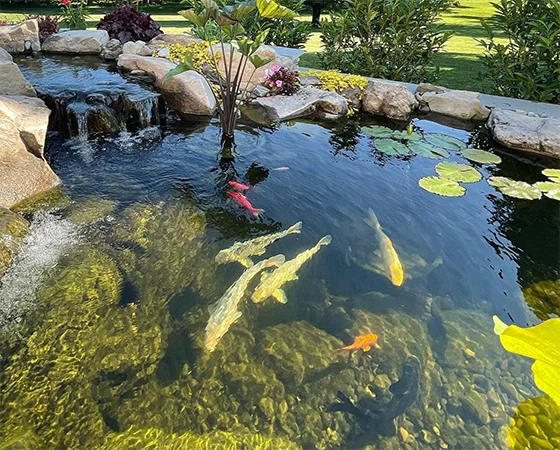 Take a break from the bustle of Baltimore
Installing a koi pond in your backyard can be one of the most calming and enjoyable experiences in life.
Sitting on the edge of this picturesque aquatic environment while listening to the calming sound of flowing water can be an incredibly therapeutic and refreshing experience. After a long day at work or taking care of family, what better way to relax?
Koi ponds will not only bring you joy but also create a natural refuge for birds and butterflies.
Building one is like creating an oasis from the hustle and bustle of everyday life – providing you with a personal escape into tranquility!
Popular upgrade packages for your pond include:
Our koi pond builders Bring Nature To Your Baltimore Home
The sight and sound of running water evoke a peacefulness like no other. It's mesmerizing, captivating, and comforting to experience. Best of all, you can bring it right to your backyard!
Aquatic plants blossoming through the waters and bright koi fish swimming around create an enjoyable environment for you, your family, and your friends. Children can learn new things about nature, ecosystems, biodiversity… even how to feed the fish straight from their hands!
There's no greater feeling than watching nature reveal its wonders right before your own two eyes. 
Let the premier koi pond builders of Baltimore help you bring a piece of the great outdoors – because nothing compares to the peace that comes from being surrounded by natural scenery.
How Our backyard pond Installation
Service works
Explain your vision to us, and we'll use our expertise and skills to bring it to reality! We'll make sure to keep you in the loop throughout the entire process of building your perfect pond.
Fill out our form and tell us about your desired water feature or service. Our koi pond builders will have a phone consultation with you to discuss the details of your project and answer any questions.
After we understand your vision, we'll start building your pond. We'll help you with recommendations and keep you updated on our progress. You and your family will be able to enjoy your beautiful outdoor setting in no time.
Your entire outdoor area has come to life thanks to your new and improved pond. Your family and friends can now come together and enjoy the benefits of a beautiful pond right outside your back door.
Pond Construction And Renovation Pricing In Baltimore
Our koi pond builders deliver high-quality services that will turn your yard into a unique and relaxing space for family gatherings. With 20 years of experience in the pond construction industry, we use our knowledge and mastery to exceed our customers' expectations every time.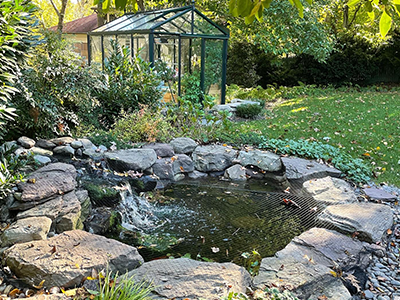 Includes up to an 8x10 pond, pump, filtration system, rocks, and a waterfall.
Average Pond Construction*
Includes a 12x15 pond, an upgraded pump, an enhanced filtration system, rocks, and an upgraded waterfall.
High-End Pond Construction*
Includes a 15x25 pond, an upgraded pump, a premium filtration system, rocks, and an upgraded waterfall.
Custom Pond Construction*
Our "sky is the limit" package includes a 25x25 pond and every upgrade and feature that you want for your pond.
Advanced options for your pond can include:
*Prices are averages and may change depending on the size of your pond and your choice of systems and upgrades. You'll receive an exact quote for your unique pond construction after the in-home consultation.
Our Pond Builders Construction And Renovation Portfolio
Browse our gallery below to see the the endless possibilities for your home. We'll make sure your water feature becomes a beautiful oasis based on custom design, flawless execution, and proper care.​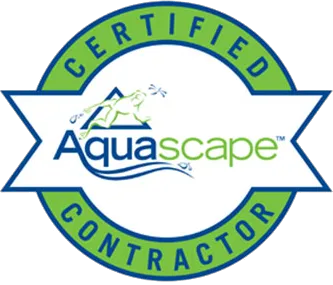 An Award Winning Pond Company
Premier Ponds is an Aquascape Certified Contractor ready to tackle the most complex and demanding pond projects. As 2014 and 2016 Pond Company Of The Year, we have helped DC, MD, and NoVa residents with pond maintenance, renovation, and construction for 20 years and counting.
Happy Homeowners Like You Say
We let our work speak for itself! We love to hear from our satisfied customers. Read what they say about the quality of our services so you can make an informed decision when choosing Premier Ponds to build the pond of your dreams!
No job is two small for Premier Ponds! I have two very tiny ponds with beautiful little water falls installed by Premier – They have given us so much pleasure – not only are they beautiful to look at but the gentle splashing is mesmerizing. I have them cleaned by Premier twice a year and the service is outstanding.
Everyone at Premier Ponds has been great. Andrew is always very responsive and his entire team is professional and courteous while on site.
The end-product is beautiful and my clients have been very happy with their services. I'd highly recommend them.
I highly suggest hiring the guys at Premier Ponds to build your dream pond! I had long wanted a natural swimming pool or a pond in my yard for both my benefit and the birds and bees that visit my yard. My area is awash with mosquitos, so I was, additionally, wanting to attract and retain a healthy population of dragonflies.
I first worked over the phone with Andrew to discuss the size and options. He was extremely friendly and answered any follow-up questions I had over the next few weeks. The before and after pictures as well as videos they have on their website were also really helpful and gave me an idea of what to expect. The best bonus of all is that within a week of installation, I had both orange and blue dragonflies that took up residence and eviscerated the mosquito population! I'm calling that a win!
Pond Construction And Renovation FAQs Baltimore Homeowners Ask Us
Here are the answers to the most common questions people ask our koi pond builders in Baltimore:
What is the right way to build a pond?
Decide on the location and design of the pond.
Outline the pond's boundary.
Begin excavation, carving out a shelf for plants.
Place the underlayment and liner.
Install a skimmer and a biofalls unit.
Add stones and gravel.
Install additional features like plants or lights.
Fill the pond and check for any leaks.
Once the water is clear, introduce fish and plants.
What depth does a good pond have?
For this region, a suitable pond should be at least 2 feet deep. This provides sufficient space for fish to swim and ensures the pond won't freeze completely during Maryland winters. You can even opt for a koi pond that is 3 or 4 feet deep.
How many koi fish can be in a 3000 gallon pond?
If you plan to add koi to your 3000-gallon pond, you could comfortably accommodate either 3 female koi or 6 male koi. However, a safer approach would be to maintain a ratio of one koi for every 250 gallons of pond water, provided you have a high-quality life support system for the pond and are prepared for routine maintenance.
Is it a good idea to get a backyard pond?
A backyard pond can be a wonderful addition for various reasons. It enhances the aesthetic appeal of your outdoor space, creates a serene environment, and serves as a habitat for diverse aquatic life like fish and frogs. For gardening enthusiasts, a pond introduces the opportunity to grow water plants. It can even help create a cooler micro-climate in your yard.
Transform Your Backyard Into A Breathtaking Paradise