koi Pond Maintenance & koi Pond Cleaning service In Frederick, MD
Keep Your Pond Looking Its Best
1,000+ ponds constructed and repaired | 5,000+ ponds cleaned | Active in Maryland, DC, and Northern Virginia since 2001
Embrace Tranquility With Regular Pond Cleaning
And Pond Maintenance
Is your koi pond causing you more stress than relaxation? You may notice that the water is cloudy or the plants are overgrown. You may even begin to detect a strange odor from your pond. If you're experiencing any of these issues, it's time to start thinking about a drain and clean.
This process will restore your koi pond to its former beauty and give you a deeper understanding of how your pond works. Say goodbye to constantly adding water or dealing with malfunctioning pumps. Your pond can become your peaceful oasis in Frederick, MD, again with a proper maintenance plan.
You'll start with an exploratory drain and clean if:
Koi Pond Cleaning And Koi Pond Maintenance For Thriving Ecosystems in Frederick
A murky, unkempt pond can hinder your enjoyment of the serene outdoor space you've created. It's also disheartening to know your fish live in such conditions. By investing in regular koi pond cleaning and maintenance for your Frederick, MD, pond, you can enjoy a pristine and healthy environment for your aquatic friends. 
Receiving comprehensive koi pond cleaning and koi pond maintenance services will put your mind at ease as we thoroughly inspect your pond's liner, edges, pump, filtration system, and electrical devices. We'll recommend the best course of action, such as pond skimmers, cleaners, or other equipment, to keep your pond in optimal working condition if any repairs are needed.
Some of the most common koi pond maintenance solutions include:
How An Exploratory Drain And Clean Works
No efforts will be spared in giving your koi pond the proper care. We'll make sure to keep you in the loop throughout the entire process of cleaning your pond, and equip you with tips and tricks to keep it healthy for longer.

Almost all of our pond maintenance clients start with an exploratory drain and clean first.
We start with draining your pond so that we can get a full picture of what's going on with your feature. We carefully remove any fish and place them in a temporary tank for the duration of the cleaning.
After we drain your pond, our pond cleaning service expperts clean every part of the feature. This helps to give a cleaner foundation for our inspection.
With your pond being a clean slate, we dive in with a thorough inspection. We check for holes, leaks, and malfunctioning parts. We take notes and create a detailed report along the way.

Once your pond has been fully inspected, we refill your water feature and replace the fish.
Educate You About Your Pond
Now that your pond has been completely reset to a healthy state, we go over our findings with you. This is your time to learn about the state of your pond and how to set it up for success going forward.
Exploratory Drain And Clean Pricing In Frederick, MD
We deliver high-quality services that will turn your yard into a unique and relaxing space for family gatherings. With 20 years of experience in the pond construction industry, we use our knowledge and mastery to exceed our customers' expectations every time.
Basic Exploratory Drain And Clean*
Includes assessing your water feature, removing fish before the cleaning process, and refilling your pond.
Average Exploratory Drain And Clean*
Includes assessing your water feature, removing koi fish for a full cleaning process, protecting your pond from debris, and making minor rock adjustments.
*Prices are averages and may change depending on the size and location of your koi pond, surrounding plants and foliage, time since last cleaned, and the type of filtration system. You'll receive an exact quote for your water feature's exploratory drain and clean after the in-home consultation.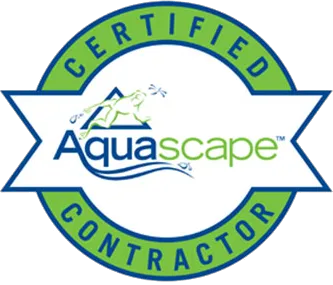 An Award Winning Pond Company
Premier Ponds is an Aquascape Certified Contractor ready to tackle the most complex and demanding pond projects. As 2014 and 2016 Pond Company Of The Year, we have helped DC, MD, and NoVa residents with pond maintenance, renovation, and construction for 20 years and counting.
Happy Homeowners Like You Say
We let our koi pond cleaning and koi pond maintenance work speak for itself! We love to hear from our satisfied customers. Read what they say about the quality of our services so you can make an informed decision when choosing Premier Ponds to build the pond of your dreams!
I searched the internet and came across Premier Ponds. They showed up to access my situation and made suggestions on how to improve the overall look of the backyard with the pond-less waterfall. They took the old one out and within a few days I was looking at my new beautiful waterfall that even lights up at night. They even took the time to plant the flowers that I bought around the waterfall and put down the mulch for me as well.
Throughout the years, whenever I have an issue (even on the weekend) I would call and I usually had someone here the next day or maybe even the same day to solve the problem. This year I had Premier Ponds put in some retaining walls and they did an outstanding job of tying in the walls with the waterfall. It looks looks like its been there the whole time.
I truly would recommend Premier Ponds. They are a great bunch of people to work with and they left me with a beautiful waterfall that I have enjoyed for many years.
Very impressed with the attitude of all the gentleman that we worked with. They worked hard and weren't afraid to get dirty! I appreciate the patience with which they answered my questions and provided helpful information.
Premier Ponds has the best service for pons in the Washington, D. C. area. I have been using them for years and they always come through with superior service. The cleaning service is a life saver for me and I enjoy my pond more since using their services. If you want an enjoyable oasis in your yard contact Premiere Ponds for installation or service.
Pond Cleaning & Pond Maintenance FAQs Homeowners In Frederick, MD, Ask Us
Here are the answers to the most common questions people ask
our koi pond cleaning and koi pond maintenance team in Frederick:
What is the best way to clean a koi pond?
Remove any fish and drain your koi pond.
Check your koi pond for problems like overgrown plants or liner damage.
Clean the pond shelves and walls using a sump pump and vacuum pump.
Power wash your koi pond to remove scale, algae, and debris.
Care for any aquatic plants by trimming and repotting if necessary.
Clean the biofalls (biological filter waterfalls).
Clean the skimmer parts.
Refill your pond, use a pond detoxifier to neutralize harmful chemicals, and reintroduce your koi fish.
How often does a koi pond need to be cleaned?
A koi pond needs a deep cleaning at least once per year, though we recommend 2 to 3 times to keep it looking its best and operating smoothly.
Are koi ponds easy to maintain?
Typically, it takes around 15 minutes each week to perform necessary upkeep tasks, like removing debris from the skimmers. Pond contractors should perform pond maintenance and pond cleaning services 2 to 3 times per year.
Are koi fish high maintenance?
Despite their elegance and charm, koi fish are often not recognized for being high-maintenance and producing a significant amount of waste. This is why regular cleanings and maintenance services are important for koi ponds.
Keep Your Paradise In Frederick, MD, Looking Perfect