A Beautiful Lighting Technique For Your Maryland, DC, Or Northern Virginia Home
Uplighting for homes and yards is a lighting technique where light is shown upwards onto an object. This is done by either using angled light fixtures or manually angling a light. The upward shining light (hence up?lighting) can brighten the walls of homes, draw attention to statues and trees, and improve the atmosphere of a backyard. 
Alex just got home from his best friend's wedding and he is already planning.
The garden outside was just like what he and his wife, Britney, want for their own. They already have the beautiful plants, a nice statue, water feature, and patio. There is only one difference: lighting.
The venue lighting is amazing. He could clearly see the area, his attention drawn to certain parts depending on the lighting. There are certain parts of the garden lit upwards (literally) and it is now necessary for their home.
You can learn all about landscape uplighting and what it can do for your home! It can make certain key features of your home stand out like a model on a runway, and look just as good too. You can uplight statues, trees, and even your walls to make them into nighttime art. This is one of the many reasons people install outdoor lighting, uplights especially. So, what is uplighting? Well, there are 2 main types: in-ground and stake mounted.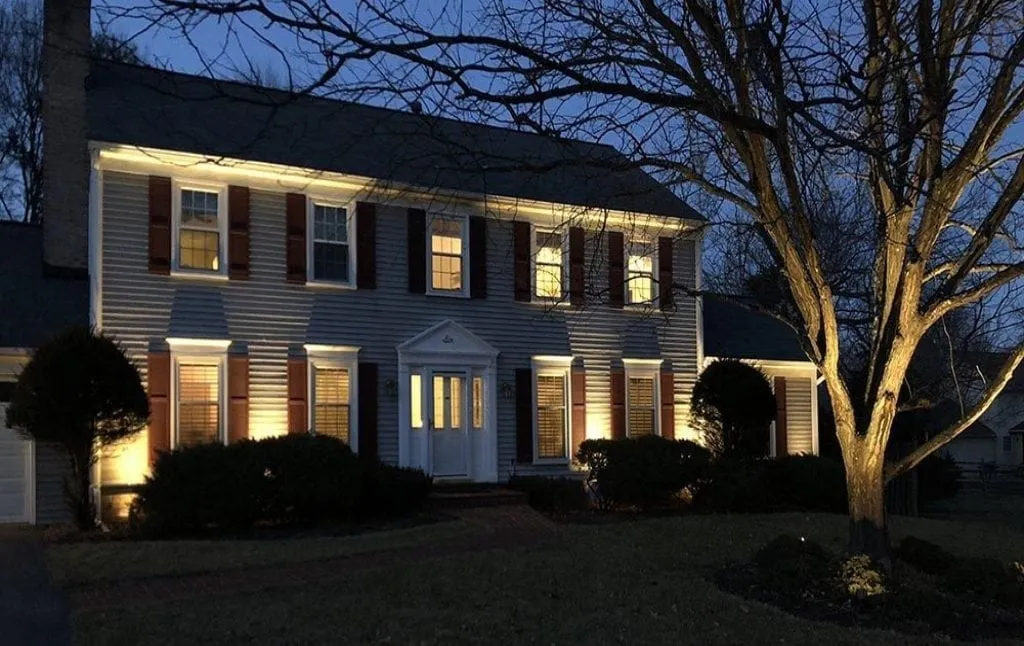 In-ground/Recess Uplights
Don't worry about tripping over these lights because they're exactly where they say they are- in the ground. This means they aren't poking up, waiting for someone to trip over them. They shine a nice, gentle light straight upwards, illuminating the object above it. Recessed uplights are great for pathway lighting, around pools, close to walls, and in high traffic areas. 
What is uplighting? Use recessed landscape uplights around a pool
Harder to miss these than recessed uplights, stake-mounted uplights are exactly that- mounted. They stick up from the ground to highlight certain features of your home. This makes them easier to install than recessed lights, but people can trip on or knock them over. This means the best place for them are low traffic places like natural areas. It's easier for the bulb to become damaged, so if it breaks it's good to know how to dispose of light bulbs.
The picture below is an example of uplighting from the McAuliffe home: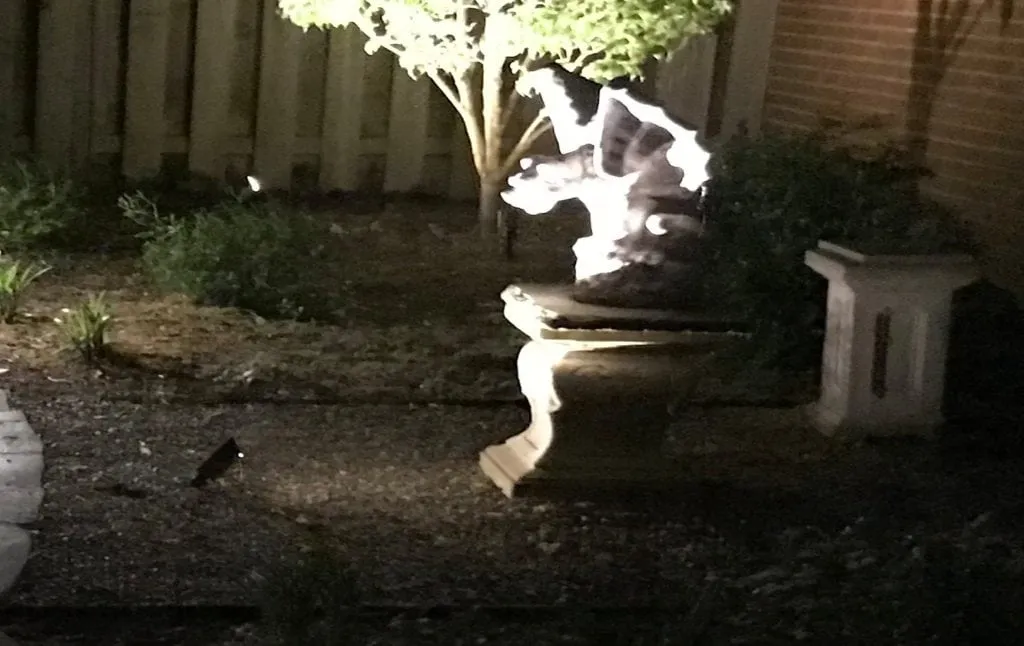 What Is Uplighting For Trees?
Nighttime and trees don't work well because they can create a gloomy atmosphere and make your yard darker. Fight off the dark and install some uplights! Putting in uplights can create a shimmering effect on the leaves and branches, like with landscape moon lighting. 
If the trees have more open branches, it's best to have the light shining upwards directly from the base of the tree. If the branches are closer together, put the light farther out so it won't completely block the light. 
What Is Uplighting For Walls?
A textured surface is perfect for uplights. Use uplights at the base of brick or stone walls to create a wall grazing effect and see the patterns pop! Uplights are an excellent way to beautify the side of your house or light up columns.
The closer to the wall you place it the more the surface will stand out. By placing it farther back the light will spread out more, causing fewer texture shadows to show. It all comes down to what you want.
Uplighting For An Uplifting Home
What is uplighting? It's a way for you to beautify your home at night while also making it more secure. You can light up those darker natural areas so you can see it in a whole new way, brighten your walls and turn them into art, and have fun moving them around. Isn't it great when beauty and function work together to enhance your home?
These are the best places for security lights >>
Want More Ways to Brighten Your Home?
Check Out Our Page On It!