1,000+ ponds constructed and repaired and 5,000+ ponds cleaned in Maryland, DC, and Northern Virginia since 2001
Northern Virginia: Pond Renovation, Construction and Maintenance
Northern Virginia, the home of Tysons Corner and traffic on I-66. While we have a lot of clients that live in that area, we haven't gotten any better at predicting beltway traffic over the past 17 years.
Building A Water Feature In Northern Virginia
The yards around Mclean and Great Falls are usually larger and more spread out. From a construction standpoint, this is the best situation as it makes the logistics of building in a yard much easier. It also allows for larger projects.
Fairfax/Arlington/Alexandria
In the Fairfax, Arlington, and Alexandria areas, the yards are generally a bit smaller and tighter to each other. Since we have to use a wheelbarrow and a rock cart to move materials around, it can be a tight squeeze sometimes. Although there was one job in Washington DC that required us to move all the materials through the house…
Check Out Some Of The Projects We've Done Around Northern Virginia
Read About Some Of The Stories Of Koi Ponds Around The Northern Virginia Area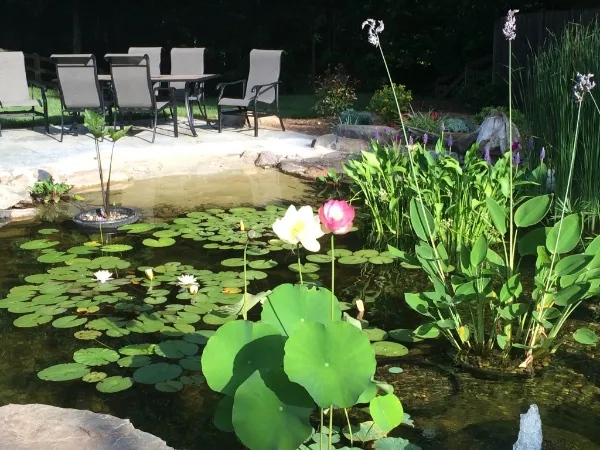 Large And Small Backyard Koi Pond Ideas From Real Projects In Maryland Collect Some Ideas For Your Own Backyard Pond Project In Maryland, DC, Or
7 Best Pond Builders In Maryland And How To Find The Right One For You You Can Trust These Companies With Your Pond Building And
Modern Design Pond With Retaining Walls In Alexandria, VA See What A Modern Pond Design Can Look Like And Decide If It's What You Want