PONDLESS WATERFALLS IN Baltimore
Create An Awe-Inspiring Water Feature That Needs Minimal Maintenance
1,000+ ponds constructed and repaired | 5,000+ ponds cleaned | Active in Maryland, DC, and Northern Virginia since 2001
Make the Most Of Your Baltimore Home's Open Space
Have you been looking out your window at the vast stretch of grass in your backyard, wondering how on earth you can make it look appealing? 
You know it takes up a lot of space, but is there anything you can do to make it interesting?
Well, why not try installing a pondless stream or waterfall – this way, you'll get all the benefits of having a relaxing water feature without taking up too much of your open space. 
Think about the calming trickling sound and the picturesque view it'll give your backyard…
Let's bring that empty expanse to life with a beautiful pondless water feature.
Upgrade packages that Baltimore homeowners like you love:
*Advanced options for pondless waterfalls:
Showcase The Unique Style Of Your Home
Installing a pondless water feature into your landscape is a creative, beautiful way to show off the unique style of your home. It can add ambiance that beautifies your space in an amazing way.
With the sun shimmering off the flowing water and large, natural-looking accents decorating it, you'll give off an impressive aura unlike any other homes in your area. 
You can start a trend in your Baltimore neighborhood and have the satisfaction of knowing you're contributing something magnificent to your community.
Don't let this unique opportunity pass you by; seize it today and bring some wonder and beauty to your home with a pondless waterfall.
How our Pondless Waterfall Installation service works
Explain your vision to us, and we'll use our expertise and skills to bring it to reality! We'll make sure to keep you in the loop throughout the entire process of building your perfect pondless waterfall.
Fill out our form and tell us about your desired water feature or service. We'll have a phone consultation to discuss the details of your project and answer any questions you may have.
After we understand your vision, we'll start building, renovating, or cleaning your pondless water feature. We'll help you with recommendations and keep you updated on our progress. You and your family will be able to enjoy your beautiful outdoor setting in no time.
Enjoy Your Pondless Waterfall
Your entire outdoor area has come to life thanks to your new water feature. Your family and friends can now come together and enjoy the benefits of a beautiful pondless waterfall right outside your back door.
Pondless Waterfalls Pricing In Baltimore
We deliver high-quality services that will turn your yard into a unique and relaxing space for family gatherings in Baltimore. With 20 years of experience in the pond construction industry, we use our knowledge and mastery to exceed our customers' expectations every time.
Basic Pondless Waterfall*
Includes up to an 8 ft. long stream, an average waterway of 1.5 ft. wide, small-sized boulders, and a 3000 gallon per hour pump.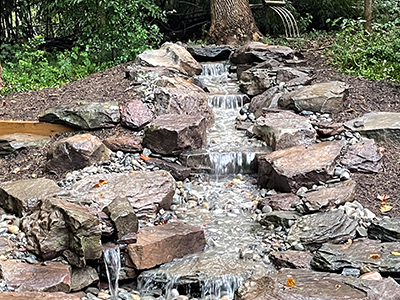 Average Pondless Waterfall*
Includes up to a 22 ft. long stream, an average waterway of 2 ft. wide, medium-sized boulders, and a 3000 gallon per hour pump.
High-End Pondless Waterfall*
Includes up to 40 ft. long stream, an average waterway of 2 to 4 ft. wide, large-sized boulders, and a 5000 gallon per hour pump.
*Prices are averages and may change depending on the size of your pondless waterfall and your choice of systems and upgrades. You'll receive an exact quote for your unique pondless waterfall after the in-home consultation.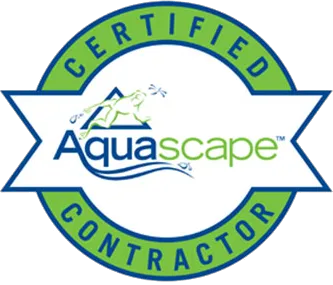 An Award Winning Pond Company
Premier Ponds is an Aquascape Certified Contractor ready to tackle the most complex and demanding pond projects. As 2014 and 2016 Pond Company Of The Year, we have helped DC, MD, and NoVa residents with pond maintenance, renovation, and construction for 20 years and counting.
Happy Homeowners Like You Say
We let our work speak for itself! We love to hear from our satisfied customers. Read what they say about the quality of our services so you can make an informed decision when choosing Premier Ponds to build the pond of your dreams!
ARTISTRY:
Came home to our completed projects earlier today: a natural stone wall around a grouping of trees AND a beautiful stream (including two waterfalls) alongside our entryway. When I spoke to Mike last week, he said he was looking forward to "blowing us away" with these projects.
I thought it was slightly dangerous to be setting the bar so high, yet when I walked up my driveway earlier today I was greeted by an amazing WORK OF ART. We are beyond pleased; blown away! I knew my wife would have a similar reaction and I caught that on video. I asked, "0 to 10?" and she answered "Eleven!"
We can't stop gazing at it. And we're as excited to share it with our friends and family as we are to sit on our porch and soak it all in every chance we get. We are amazed at the attention to detail and thoughtfulness that makes it: 1) stunning from every possible angle, 2) balances textures both day and night, and 3) creates a look that is exactly like what you might find in nature.
Not "good quality", but "GREAT" quality. Our townhouse backyard is now a highlight in our daily life. The sound of the waterfall, the growth of our fish, the blooming water lily, our frogs. The whole scene draws us daily to enjoy the wonderful landscaped setting. Premier Ponds the best.
I had a problem with my backyard water feature built by another company. The other company was unable to fix the problem but Premier Ponds got the system working and it has continued to work without issue for over a year. (Previously I was happy to see it work right for a day or two.) They know their stuff and were friendly and helpful.
Pondless Waterfall FAQs Homeowners in Baltimore Ask Us
Here are the answers to the most common questions people ask a pondless waterfall contractor in Baltimore:
Is it worthwhile to install a pondless waterfall?
Before deciding on a water feature, take into account your personal preferences. If you're drawn to the calming sound of a waterfall or stream, but don't have a particular interest in fish or a variety of water plants, a pondless waterfall might be the most affordable and easiest to maintain option.
Are pondless waterfalls challenging to properly maintain?
Compared to traditional ponds, pondless waterfalls are simpler to install and require less maintenance. They also offer a safer environment by eliminating the risk of drowning. However, it's important to note that a pondless waterfall still requires some level of upkeep.
How often will I need to fill up my pondless waterfall?
Typically, a pondless waterfall needs its water supply topped up weekly. However, during hot weather, this could be more frequent. Smaller reservoirs demand more regular checks and refills to prevent the pump from running dry and getting damaged.
Will I be able to leave my water feature running all the time?
Pond pumps are made to operate continuously. Regularly switching the pump on and off can damage it. The only instances where turning off the pump is advisable is when cleaning it or if you're going to be away for several days.
Captivate Everyone With A Stunning Pondless Water Feature