Pondless Water Feature Installation
Less Maintenance With All The Amazing Benefits
1,000+ ponds constructed and repaired and 5,000+ ponds cleaned in Maryland, DC, and Northern Virginia since 2001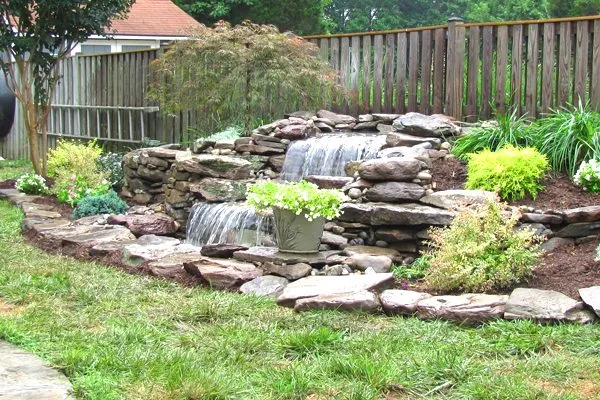 Pondless water features are easier to maintain and they leave an amazing impression.
They're the ideal solution for those with children and small pets.
Enjoy the sights and sound without stressing about maintenance
Travel whenever and for as long as you like without worry
Find the perfect design for your space
Create your ideal outdoor living space with a pondless water feature.
You Deserve An Amazing Outdoor Area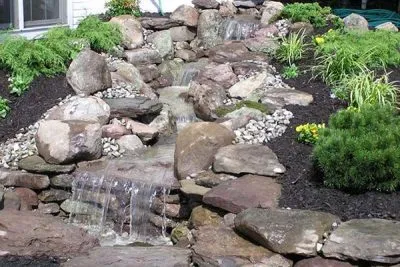 Listen to the sound of running water, feel the fresh air and sunlight, and fully enjoy your low-maintenance paradise.
Pondless water features can have as much or as little standing water as you'd like, even none!
Fits In Even The Smallest Spaces
We all know bigger isn't always better, and pondless water features prove that point.
How A Pondless Water Feature Works
It's The Cycle Of Water
The water comes out of the top waterfall, flows down to the bottom, and cycles back up to the top again.
What Makes It Easier To Maintain?
A lot of it is the gravel. It filters the water more, makes seasonal cleanings easier, and it takes the place of the basin where the pond would be.
Pondless Water Features; Perfect For Your Home Or Business
These are perfect to add curb appeal to any place you're looking to install them.
The visual of the water running will help put anybody at ease. Especially if they're being added as the focal point of the yard.
Plus, the gravel in the bottom acts as another filter to make maintenance even easier.
Escape From Your Daily Stress
The average price of a pondless water feature is $12000.
The base price of one is $8000.
While the timeline varies based on size, they generally take 1-2 days.
Pondless water features are virtually no maintenance.
12 Years Of Excellent Service In Bethesda, MD
"I have been a customer of Premier Ponds for over 12 years. Their service is excellent and always timely, and I strongly recommend all ponds owners to consider using Premier Ponds."
Happier Clients Every Time In Rockville, MD
"Like other reviewers, we could not be happier. Steve really listened to us and came up with a design that took our needs into account. Mike and the crew did an amazing job…Each time we go out, we're more happy with it…"