Natural Stone Retaining Walls
1,000+ ponds constructed and repaired and 5,000+ ponds cleaned in Maryland, DC, and Northern Virginia since 2001
Add More With A Natural Stone Retaining Wall For Your Maryland, Washington DC, or Northern Virginia Home
Accent and add more land to your backyard! Install a natural stone retaining wall with Premier Ponds of Maryland and see the difference it can make.
Do you want a landscaping feature that can do more than look good? There's a certain beauty in functionality and natural stone retaining walls are both beautiful and functional. They serve a purpose and look good doing so. Where a change in elevation occurs, such as a small hill or drop off, these borders can hold back the soil or mulch, keeping it out of your grass. Also by doing this, you're helping the area look more natural in by making it look like Mother Nature was designing your yard herself. Read on to learn how this relates to water features.
When it comes to ponds, a natural stone retaining wall can be a perfect addition for several reasons. It gives you the ability to install an aboveground pond. The wall holds the water in place and, if thick enough on top, can allow people to sit inches away from the pond and enjoy a closeup view. If you have fish you can feed and play with them more easily. It also defines the borders of the pond, letting people know where it is and how close they can get before they end up walking in the pond. You can even add lighting for an amazing wall grazing effect. Homeowners install stone landscape walls for more reasons too, keep reading to find out why.
Add More To Your Yard With Stone Retaining Walls
Looking outside and seeing grassy hills and yards can become boring. If this sounds like your yard, you can use stone retaining walls to turn them into usable landscape features! Stone landscape walls can flatten the area out so you can build in a pond, garden, or other natural areas. You can also install raised gardens or flower beds. Don't let hills and slopes keep you from your dream yard.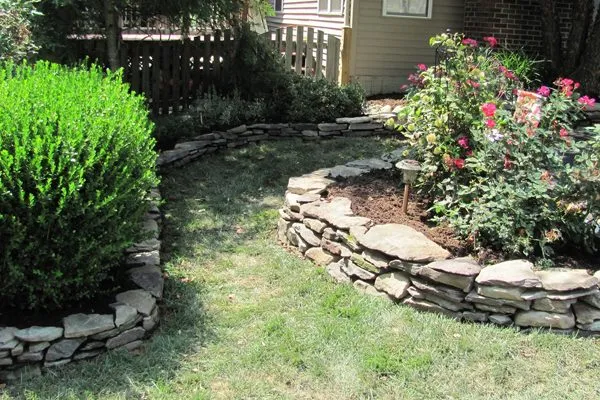 Control Erosion With Natural Stone Retaining Walls
If you don't have trees and shrubs holding soil in place, do it with stone landscape walls! Over time soil shifts and moves, exposing roots, gutting out areas of your lawn, and creating swampy areas for puddles. Surface water runoff can also be a problem as it erodes the ground and can cause flooding. You can prevent this from happening with stone retaining walls. Keep your yard looking perfect for longer!
Stone Landscape Walls Can Help You
You can bring more to your landscape with natural stone retaining walls! Fill in the blank spot in your yard for your next project. Or maybe you're looking for a renovation project. This is a perfect opportunity to add a little something extra by installing stone landscape walls. Turn a hill into terracing perfect for a couple flower beds or a bench where you can sit and gaze out over your yard. Watch the video to see how a natural stone retaining wall changes these homeowner's landscapes: