How to Install Outdoor Lighting
Installing Outdoor Lighting For Your Maryland, DC, Or Northern Virginia Home
Some Installation Required
What happens after dusk? Darkness. There may be some street lights on, but that's not lighting your house. Maybe it's time to. You can brighten your front door, patio, pathway, and other areas of your home. Let's illuminate your house with some outdoor lighting!
First timer or experienced DIYer? Either way, this post can help you install outdoor lighting on your property. We're going to explain this under the assumption you're using low-voltage LED fixtures, so let's get into the process!
Daytime installation is normal with adjustments occurring after seeing them at night.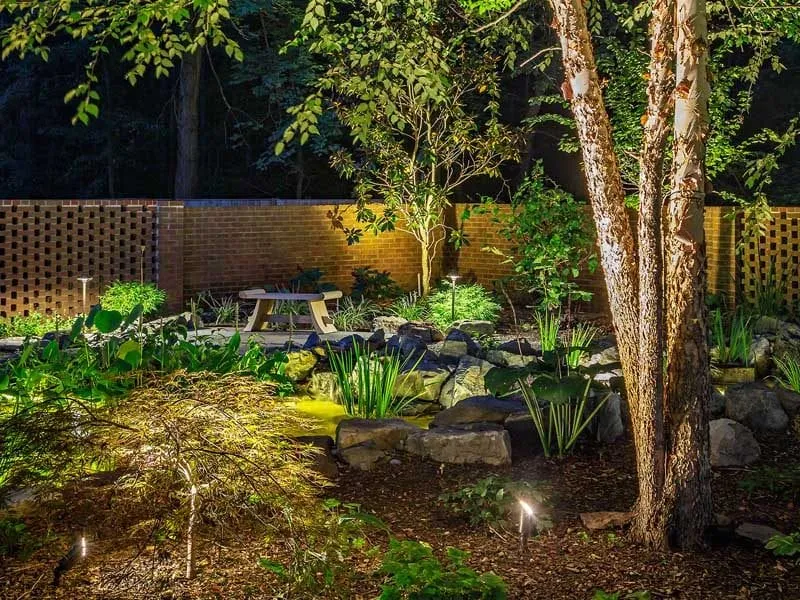 The 9 Steps To Install Outdoor Lighting
1- Locate Your Power Source
You've got the power, now you need to use it! Whether it's for your tree-tops or your front door, a power outlet may be needed. Find the best (usually closest) power outlet for this project. Be careful! If the outlet isn't GFCI (ground fault circuit interrupter) protected and weatherproofed, or there isn't an outlet at all, you may want to call an electrician. An electrical shock may occur otherwise.
If you still aren't sure, please contact an electrician for safety purposes
What do you want to create? Your walls can be artwork, create a moon effect, or you can light up your pathway! As long as you have some understanding of the different types of lights, you can make your home brilliant. If safety is your main concern, exterior lighting can help too. Install outdoor lights to help people see where they're walking and even deter trespassers.
So you've decided, now what?
Want To Learn About Yard Lighting?
Check Out Our Page On It!
You've got the design and the lights. Now build them! This process usually only involves a few simple steps like taking them out of the package, putting the bulbs in, and assembling the components. With this, you're one step closer to being able to fully enjoy your home at night.
After assembly comes placement.
Time to put them in! Set out your new lights and get ready to power them on. Wired exterior lights are normally powered by a small transformer plugged into an outdoor socket. There are other ways but this is the most common. Put the transformer on a bucket to mimic the effect of it being mounted already. Each light should have a length of wire running to the home run wire which connects to the transformer.
Stake lights loosely and leave a few feet of extra cable (by each fixture and transformer) in case you want to move them later
Now it's time to layout a map.
5- Lay Wiring Above Ground
It's a roadmap. You'll know where the wires are so you can access them in the future. Try to have the wires go in out of the way areas so they won't be cut or disturbed by any future projects. You can have several lights meet at a hub which then travels via one wire to the transformer. This makes any future troubleshooting easier.
Let's get connected!
There are a few different ways to do this. You can use fastening devices, which some brands of lights come with. Splicing the wires is another way. You'll cut the wire and remove about 1″ of the protective plastic coating. The wires are then twisted together and held in place with silicone-filled wire nuts. Either way is fine, it's up to your personal preference. You could use solar instead of wired lights if you want, but it may turn out differently.
Next step: out of sight, out of mind.
Dig and bury. Typical low-voltage wiring should be buried about 6″ below ground in grassy areas. For mulch beds where edging occurs, the wires should be buried deeper than 6″ or have a protective conduit to run through. This can keep the wires from becoming damaged. Farther in the mulch the wires can be just below the surface or a few inches under.
Transformers, mount up!
All of the wires are underground, so make the connection! Connect the home run cable to the transformer and mount it. It can be mounted on the exterior of the house or on a post by the outlet. Make sure the surface can hold the mounting. Brick may be ok but siding is not the best idea. This is also the time to plug in any timers or photocells.
Will your lights pass the test?
Plug them in and give them a run! Wait until nightfall and then go around and check out your new exterior lights. This is the perfect time to make any adjustments. After that, all you need to do is enjoy your new outdoor lights.
Install Outdoor Lighting - Check
The process to install outdoor lighting can be long and sweaty, but the end result can make it all worth it. The lights and shadows playing off of each other, the highlighting of key features, and the overall illumination can be extraordinary. You can take your home above and beyond the normal night look by installing outdoor lighting!
Want To Learn About Yard Lighting?
Check Out Our Page On It!