See What Can Happen When You Choose Premier Ponds To Build Your Pond
This backyard pond is in one of Premier Pond's owner's house. You can see what a pond with all the bells and whistles can look like.
Find out what happens below-
Breaking In His First Home
"It's my first house so it has to have an amazing backyard," says Andrew firmly.
His wife smiles and nods. She knew this was coming. Andrew is a higher-up at a pond contracting company so this makes perfect sense. He's made large and small koi pond ideas come to life, so she's confident he'll do something amazing.
"The plan is to make this a showcase feature pond. I want potential clients to come to see this pond and know just what we are capable of. It might be December (*of 2013) but that's not going to stop us from building this backyard pond in Silver Spring, Maryland!" says Andrew excitedly.
All About Andrew's Backyard Pond
To start, it's going to be a large 20-foot by 20-foot pond.
This backyard pond in Silver Spring will also feature:
3 mystery waterfalls
A beach edge
Negative edge into a planting bog
Fountain urn built into the wall
Rain barrel water reclamation system
25-foot stream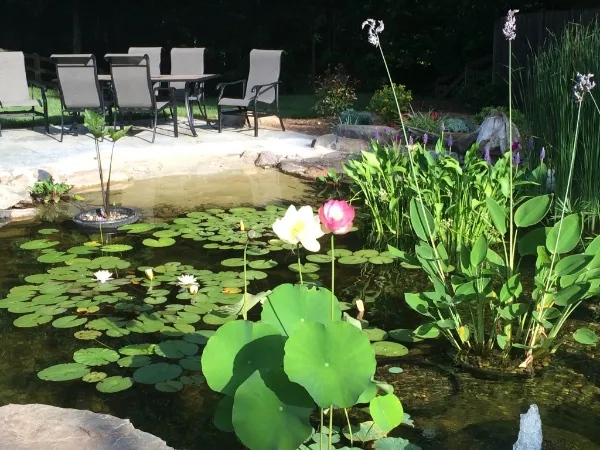 Beach edges are exactly how they sound. It's a sandy edge gently sloping into the pond. It looks amazing, it's a great way to soak your feet, and exploring or cleaning the pond is easier.
A pond bog filter helps clean the water and keep it clearer. You'll also have room for more plants. Your pond can look more natural and amazing this way!
The fountain urn does more than add beauty and uniqueness to your backyard pond. It also moves the water around, which aerates (adds oxygen) to it. This is great for your fish and it helps prevent algae and standing water.
The rain barrel reclamation system helps capture and filter rainwater for you to use.
Andrew also has Premier Ponds build a patio next to his backyard pond. Now he and everyone else has a great place to enjoy his pond from.
Andrew's pond took from December 2013 to April 2014 and cost just under $80,000.
Wait, 4 months?! Sadly, the winter was much worse than normal. There was snowfall after snowfall, which makes it almost impossible to craft a pond. You could do it, but it's more likely mistakes will be made. Cold like this is hard and uncomfortable to work in.
Usually, a project of this size would take 5 of our guys about 2 weeks to complete.
You May Also Like To Know
Now, Andrew has an amazing backyard pond for his family and friends to enjoy. He also does have potential clients come over so they can experience it for themselves.