Pond Retaining Walls: Ideas And How To Build One
Creating Ponds For Any Type Of Yard In Maryland, DC, And Northern Virginia
You can not only see some pond retaining walls clients have had us build and repair over the years but learn how to do it yourself too. As we go through the process together, you'll be able to see examples of work our clients have had done in your area.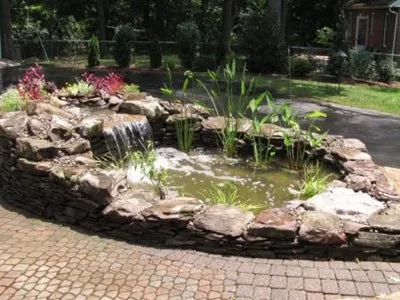 Ain't No Yard Hilly Enough
"It's a win-win" Rick says to himself
Tiffany, his wife, wants a koi pond and Rick loves working on projects with his own two hands. For Rick, this is the ideal situation because he can make his wife happy by doing what makes him happy.
There's just one problem: their yard isn't flat enough.
With the pathways and garden areas taking up the flatter areas putting in a pond is going to be a real challenge. Rick can tear up his yard to put in the pond, make it a small pondless feature, or he can just give up. He could also try to hire a pond contractor to build a new pond.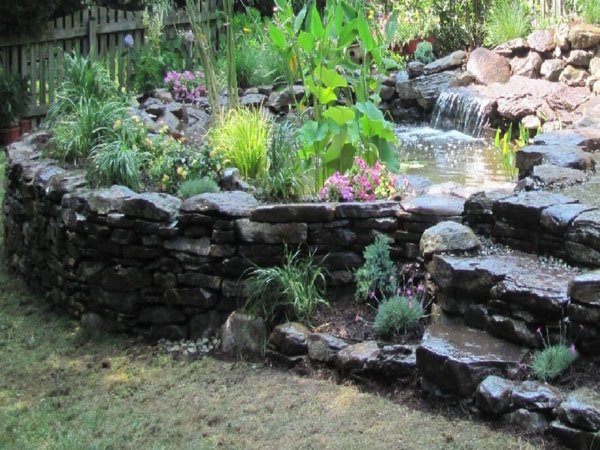 But after doing some research Rick finally found an answer in pond retaining walls. It'll be a long, hard project but when his vision comes to life, it'll be worth it.
Here's what he needs to do to make it all happen.
Equipment For Building Pond Retaining Walls
Natural stone
Fine gravel
Laser level
Shovel
"Shoot," Rick says after reading the list. "Looks like I gotta go pick up a few items first. These larger natural stones are going to be a pain, but at least Tiffany will be happy!"
After he gets the items together he starts the process for building pond retaining walls.
How To Build Pond Retaining Walls
Building a pond retaining wall takes about 5 steps, most of which repeat themselves until you are satisfied. They include:
Digging a trench where needed
Placing larger and flatter rocks
Filling up open areas with gravel
Placing another row of stone
Repeat steps 2-4 as needed
"I'm going to want a little more detail than what these steps give me," Rick says with a frown.
The trench only needs to be dug on the sides needing walls (see the video above for an example). This trench helps keep the rocks stationary and helps the pond not leak between the stones. You only need to dig it about 6 inches deep and as wide as your widest rock.
The flattest rocks go on the bottom to provide the most stable foundation possible.
"Well now that I know how to build pond retaining walls," Rick says happily, "all I need is to choose one of these designs Tiffany gave me."
Designs For Pond Retaining Walls
*These are actual designs we've done for clients in the Maryland, DC, and Northern Virginia area.
Rick finally decides on a design. He lays out the boundary of his pond, including the side that needs pond retaining walls. He'll have to start on the digging tomorrow because Tiffany just got home which means it's time to start making dinner together.