9 Driveway Lighting Ideas For Your Burtonsville Home
Creating Your Ideal Driveway At Night For Your Maryland, DC, Or Northern Virginia Home
You know how movies set in older eras have those long driveways lit up by torches? It's quite impressive, isn't it? Well, torches may be a bit too gothic for most homeowners, but you can use outdoor lights instead to achieve a similarly impressive effect.
Plus, driveway lights can be very beneficial.
As of right now, the grass at the end of my driveway has a tire mark rolling through it every time I back out. For some reason the driveway curves a bit at the end, leaving myself and guests to run through the grass all the time. Now it's a dead spot that might as well be paved over.
You may be experiencing something similar, and if not, you probably don't want to. It can mess with the curb appeal of your home.
Instead of letting this happen, you can do something about it – install driveway lights. They can have a huge impact on the look and safety of your home and yard.
But you may want to put a little thought into lighting your driveway. This way you can make it look amazing while it brightens your home. Here are 9 driveway lighting ideas perfect for illuminating your Burtonsville home, including entrance posts, moon lights, and wall lights.
1. Driveway Entrance Lamp Posts
Starting at the beginning is what works for, well, everything really. This includes outdoor lighting for driveways.
You can place a post light on one or both sides of your driveway, right at the front. They make a great marker for yourself and guests, plus they look very sheik.
Another option for you is to create stone outposts on either side and have lantern outdoor lights on top of each.
2. Lighting Along The Driveway Edges
These would be perfect for keeping people (and me) from running over that same patch of grass. You can use it for the same purpose!
But it isn't as easy to make it look good.
If you aren't careful, your driveway may end up looking like a mini runway for airplanes. This happens if you put the lights close together and right across from each other all the way down. Instead, place them 8-10 feet apart and stagger them on each side, kind of like a big zipper.
If your driveway has boundary walls never fear! You too can install outdoor lighting on them to keep people from scraping their cars and doors or just plain bumping into them.
Wall grazing lights can be installed right under any edges to gracefully cast light downwards on the stones. Not only does it make the walls easier to see but it can also create cool effects from the interplay of light and shadow.
Don't worry, if there is no lip for the lights to go under wall lights can still be installed.
Want To See The 2019 Lighting Trends?
Download The Free Guide!
This is the more expensive and perhaps fancier option as well.
Recessed lights are those ones lying inside the ground shooting light straight upwards. It makes for an awesome effect, though your contractor will need landscaping experience to install them (it isn't easy).
Try imagining your driveway lined with beams of light shooting up towards the sky…
Do you have certain flowers or bushes that just look amazing during the day? For instance, the ones lining the driveway.
Too bad they can't be seen at night…or can they?
All it takes are a few garden lights strategically put in place to brighten both your amazing plants and your driveway.
Even people passing by would be able to check out your landscaping skills.
Let's not forget about the other end of the driveway, it's just as important.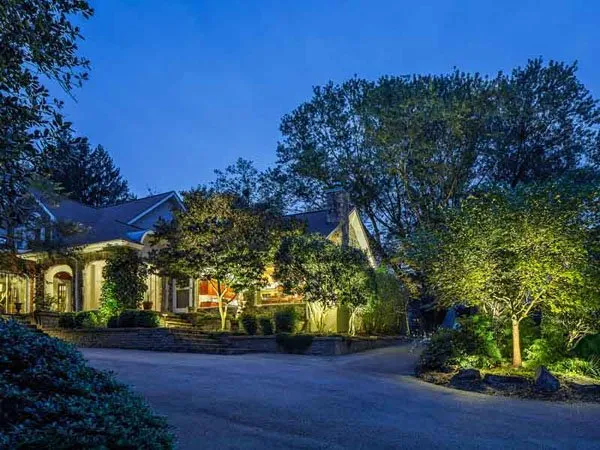 When you reach the other end, or your guests do, having lights down there makes it easier for everyone to see where they are walking. Also, if it's crowded, they can see where other cars are so nobody gets door-dinged.
Motion sensor lights
can be your best friend, and your guests too! They'll flip right on when someone comes down your driveway so you won't have to worry about guests not being able to see.
The best part is that you can find all sorts of light fixtures that include motion sensor technology, so you can place them almost anywhere.
Moon lighting is probably one of the coolest driveway lighting ideas because you can't see the light source (at least, you're not supposed to).
Moon lights are lights placed high in trees, like 25 feet or more (please do not attempt to install them yourself as it can be dangerous).
The light they shine down replicates that of the moon, hence moon lighting. They can create an amazing effect even on the darkest of nights.
9. Driveway Lighting Ideas Combined
You can begin the driveway lighting with posts, have garden lights here and there throughout the length, maybe even some moon lights to brighten the actual driveway, all leading to motion sensor wall lights by the garage.
It would basically be like driving on a pathway made of light.
There are a huge number of combinations you can make with these and other driveway lighting ideas, all it takes is knowing the types of lights and some creativity.
Feel Welcome Every Time You Come Home
Driveway lights can be like a sign showing you that you're close to home. It can be quite a nice feeling pulling up to a driveway that's warm and welcoming. If you think that would be nice, you should definitely check out some of our other lighting idea posts!